Bloodbath of Fuzz - 45 Spider (self released)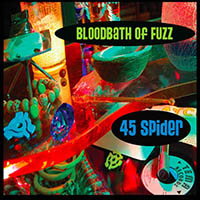 Rockabilly guitarist Grady Martin is widely credited as the father of fuzz, taking Link Wray's dirty tone a step further in the early '60s, thanks to a faulty pre-amp. "Red" Rhodes made the first distortion pedal for his friends in The Ventures. Add 100 watt amps to the picture and the rest is tinnitus.
45 Spider - so named for the adapter used to make big-hole seven-inch singles work on a turntable spindle - should build a monument to Martin and Rhodes in their home town of Cleveland, Ohio. Their "Bloodbath of Fuzz" is 17 songs long and you won't find a clean guitar note hiding anywhere.
A fuzzed-up cover of The Gentlemen's "It's a Cry'n Shame" opens the album and sets the scene: Meaty guitar and bouncy rhythms behind Ms Hadley K's cute-sultry vocal. The template was designed long ago but it still works. 45 Spider plays a mix of semi-obscure covers and their own songs and if not familiar with the originals, it's hard to tell the difference. That's a compliment.
Guitarist Thomas Torment is at the centre of the sound and happily is up to the job. Distortion might be a hiding place for the less than adept but this guy has chops. Chanda Moore and Kevin Robson (drums and bass) are as tight as a minnow's back passage. Hedley K has vocal power to burn and makes each song her own, with servings of sass and personality.
There used to be a game in Sydney underground music audiences in the '80s where you'd try and guess the original the band was covering, especially when they wore paisley and were drawing from the well of '60s punk. Unless you had a full collection of Pebbles records, you could go mad trying to pick them.
The Wet Taxis used to do a scorching take on The Undertakers' "Unchain My Heart" and 45 Spiders' cleaner version is pretty good, too. File it next to their cover of Shocking Blue's "Send Me a Postcard" which is also formidable. "Ain' No Friend of Mine" morphing into "Stepping Stone" makes more sense than you'd think. There's a nod to the Yardbirds elsewhere.
Ohio might be a fair stretch from Texas but that's where 45 Spider's sound comes from. Almost half the album is covers (relatively obscure) but originals like "Frankenboy" and "Leave My House" manage to hold a candle to them. The guitar breakdown by Mr Torment in the latter is particularly worthy of the admission price.
Guitar tone apart, the production is bordering on claustrophobic with a helluva lot going on. Thermein, keys and xylophone figure in the mix that's punchy and just this side of polished. It's solid but space is the missing element and I wonder what they'd sound like with Jim Diamond at the console.
Seventeen songs is a lot to take in but I'm a sucker for this shit, 45 Spider sound like they'd be more fun live than a free Tequila with nitrous oxide chasers party in a nude Tiki bar. It's a bloodbath, massacre, slaughter and whatever you else want to call it but in the most enjoyable and fuzziest sense.



Tags: cleveland, '60s punk, 45 spider, bloodbath of fuzz, acid punk