Chico Purito! - Hey Honcho and The Aftermaths (Hound Gawd Records)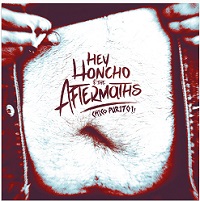 It's fashionable to label Spain as rock and roll's last remaining outpost, and if you live there or you've visited for more than 10 minutes you'll know why.
The Spaniards didn't throw off the yoke of Fascist cultural oppression until 1975, so they came late to rock and roll. Partying hard, however, is in their genes and they've been making up for lost time.
So say "Hi!" to Hey Honcho and The Aftermaths, a band from Oveido in the country's north who their label says have a sound that's typical of Spain's garage punk scene.

The Aftermaths are ex-members of Los Ass-Draggers, Amon Ra and Electric Children – bands whose profile will be negligible outside of Spain (but don't let that stop you.) They had an EP out before singer Von Gustopher (aka Hey Honcho) joined.
The Mike Mariconda production credit is a dead giveaway. You'll find it on records by Cosmic Psychos and the New Bomb Turks. Nobody knows the garage punk sound better than New Jersey native Mariconda, who was a member of the Raunch Hands and The Devil Dogs.
Recorded live and in a day, "Chico Purito!" is loud 'n' a little loose, in-your-face rock and roll. Stun volume guitar and a raw vocal, each competing to out-do each other… a rumbling bottom end…glorious leakage all over the place. It's muscly, not murky, with the live ambience you'd get if you were five paces back from the band on the floor of a rocking Asturian café.
Hey Honcho and The Aftermaths spew a dozen originals and a cover of the Dead Boys' "All This And More" and the ring-in is the least of this Baker's Dozen of songs.
Opening track "Sally Can't Win" predicts much of what's to come: Piecing feedback yields to clattering drums and splashy cymbals before a barrage of churning chords signals Hey Honcho's Handsome Dick-style wail to charge in.
"Skinny Tee" briefly eases off the accelerator just three cuts in, but the firestorm has well and truly resumed by the time "Can I Stand The Pain?" and "Pick Up The Phone" come around.
Diego Manfredo's ballsy guitar tone and liberal use of sustain is as integral to the band's sound as Hey Honcho's roar. Diego can solo, a la Ross The Boss, too, when it's called for - as you can hear on the stonking "Bossman". The righteous "Coup De Grace" recalls Manitoba's Wild Kingdom at their best.
What the hell else do you need to know? Available on LP with a download card, that's all.





Buy it
Tags: garage, chico purito!, hey honcho and the aftermaths , hound gawd