Liquorice - The Ramalamas (Half a Cow)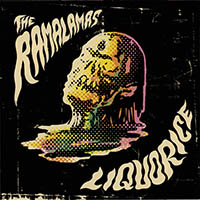 This is an intruiging and charmingly all-over-the-shop album on which this Sydney five-piece sheds its alt.country label and heads for a garage in a swamp. There's more variety in this Licourice than a pallet-load of Darrel Lea Allsorts.
The Ramalamas have been around for a decade or so, led by Chris Nielsen (vocals-guitar) and subsisting in their city's fragmented live circuit while putting out a string of albums, of which this is their fourth. Nielsen name-checks the usual '60s references (Kinks, Stones) with a nod to the US West Coast's psychedelic folk-pop scene.
As well as owning a serviceable pop voice and playing nifty guitar, Nielsen is an award-wininng illustrator and his work adorns the CD cover and inlay.
So, as you may have guessed, ariety is the by-word on this 11-track CD. The sounds on "Liquorice" are like the Flamin' Groovies were re-invented by The Charlatans and Frumious Bandersnatch with a liberal dose of Alex Chilton's shambolic, tuneful darkness thrown in. As far as I know and in vspite of their name, they don't cover the MC5's "Ramalama Fa Fa Fa" live - but given time, they might do a version with pedal steel.
The creeping "Hammer & Sickle Blues" opens the album confidently with an underlay of organ and some tasty wah-wah nagging away at the edges. The smouldering "Hole" closes the record and its stinging guitars sit in contrast with the easy beat pop of "Let It On Out" or the Fleshtones-styled garage rock of "Flim Flam". Then there's the brooding and beautiful lament of "Shoe", which sounds like a follow-up to the Beasts of Bourbon's "Hope You Find Your Way To Heaven".
There are shades of country rock in "Seven Miles" and its strong melody makes it a keeper, while "Talking' Tall" switches the mood to hillbilly garage rock with a bee in its bonnet. "Tijuana Bible" employs equal amounts of fuzz and singalong pop to sell its charms. Nielsen makes the most of his pop voice on the reverb-laden "Pirellis".
The Ramalamas are on Half a Cow, a determinedly singular label that's known mostly for its output of slacker bands - unfairly so when it's had a roster with more variety than Mum's family fry-up at the end of a long weekend.
Procure "Licourice" online or swing by Egg Records in Newtown, Sydney, where the label does the bricks-and-mortar thing.



Tags: garage, half a cow, ramalamas, licourice