Out Of My Head - Paul Collins (Alive Natural Sound)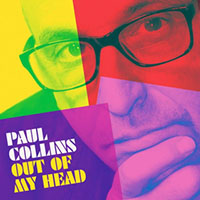 Has it really been four years since "Feel The Noise" and eight since "King of Power Pop"? The release of another Paul Collins record is a special occasion and "Out Of My Head" doesn't disappoint.
While its predecessors explored rocking and powerpop songs respectively, "Out Of My Head" finds Collins sitting squarely in pop territory. Ringing chords, the odd minor key melody and Collins'infectious vocals rule throughout. Well crafted songs with depth.
Paul Collins seems to work best when he has a crative partner to bounce off and in this instance it's bass player Paul Stingo, whose melodic tone and vocal harmonies suit to a tee. Collins plays the guitars and drums and the record was recorded in a Brooklyn studio.
"Kind of Girl" is the sort of classic powerpop that made Collins one of the most celebrated exponents of the genre. Equal parts Byrds and Rockfield era Flamin' Groovies, it's irresistibly pulled along by a soaring vocal and the distinctive ring of Rickenbackers.
It's never too polished, though. Among the smart choruses and snappy handclaps of "Just Too Bad You're Leaving" is a Collins vocal that bing pushed just out onto the edge of its range. "Midnight Special" (not that one) does the same, spiced up by some sharp guitar from guest Jason Perillo.
Lead-off track "In And Out Of My Head" was penned by Stingo and its vintage Memphis-via-Brooklyn vibe recalls Roy Orbison or some of the exotic sounds explored by Tav Falco in his less swampy moments. "Killer Inside" is mannered but intense, Stingo's brooding bass-line laying the perfect foundation for Collins' consuming lyrics and the album's darkest song.
"Lost Again" pitches perfectly to the lovelorn with its plaintive vocal and aching-braking guitar. The folky "Tick Tock" is the album's earwig, initially distracting and ultimately the sweetest piece of pop on the record. If the slight (and slightly baroque) pop of "Emily" doesn't melt your heart, a search for a pulse might be in order.
The simple "Beautiful Eyes" ends the album on a quiet note, Collins sounding very much the world-weary troubadour. It's low key but somehow satisfying. By the time the song fades, the 33 minutes of "Out Of My Head" will have evoked enough feelings to tell you that you've just heard a classic. It's out on Septmber 28.





Buy it