Second Prize in a Beauty Contest - The Dunhill Blues (Outtaspace)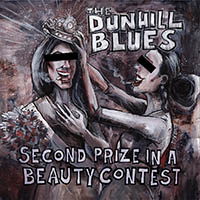 How great are back-stories? Music on a record should always be able to stand up for itself, but the yarns behind it give context and (occasionally) help understand what lies beneath.
The tale behind "Second Prize in a Beauty Contest" is fraught with life. In the band's words, it encompasses "three divorces, one marriage, one baby, one European tour, countless Australian east coast tours, line-up changes (and) a 7" single". The Dunnies' last album (their third) was "Hulacide" in 2012. This one was recorded in two days in Sydney in 2017 and left to sit on the shelf while everybody got on with their lives.
The evidence of its difficult birth is in the music - some of it bitter and forthright. A song title like "That's a Fucking Lie!" doesn't reek of subtlety.
The Dunhill Blues have had more line-ups than Johnny Farnham has had farewell tours but the core has been Adam and Dan on shared vocals and bass and guitar respectively. Sean "Mad Dog" McKenzie (guitar) and Matt Hell (drums) fill out the fullime ranks on "Second Prize".
Six guest players add to the mayhem. White Knuckle Fever/Stone Cold Fox's Celia Curtis (lead vocals on "You Can't Hurry Love"), while Mike Budden (trumpet) Michael Gotte (trombone) and JBee (piano- from French band Rhinosonics) while Jeff Pope (theremin) and Tilly Campbell contribute backing vox. My favourite configurations of The Dunnies have been the messy ones with multiple members playing horns, keys, theremin and whatever else is close at hand. A bitch to tour lots of people but the "big band" concept added depth and colour. Thus it is, here.
I once mentioned Captain Beefheart and The Dunhill Blues in the same breath. Perplexed looks followed. Haer me out. It was not because Dan has a five-octave range or the complex song arrangements turn on a dime, but because The Dunnies have a similar, if inadvertent, disregard for boundaries and a faintly similar sound to The Captain's Magic Band. Of course, Beefheart only played out of tune when he wanted to. The Dunhill Blues, not so much.
Don't you hate it when bands and/or reviewers fall back on the cliched "this is the best record yet" schtick? It might be true in this instance. It sounds like the band invested more of themselves in the music.
No, they haven't become a prog band and "Second Prize" is no rock opera. It's energetic and forthright garage skronk, delivered in short and sharp blasts, and recorded with ample supplies of beer at hand. It's full of that off-hand Dunnies humour.
It's a record of musical tin and yang. There are the Adam songs in the typical Dunnies mould ("Deadbeat", "Modern Technology", '"Quench" and "Outta Touch") that ruminate about, well, deadbeats, modern technology and drinking. And there are the Dan songs like "Done for Good" and "I Wasn't There".
There are 100 copies only being pressed (yes, it's on vinyl) which is preobably the numbr of beers they drank during the recording session. Get yours here.



Tags: garage, sydney, garage punk, the dunhill blues, second prize in a beauty contest