Sparks of punk and glam brilliance power "Electric Junk"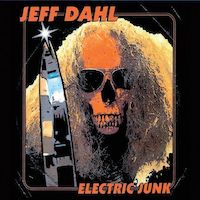 Electric Junk - Jeff Dahl (Iwannabeahoople Records/Ghost Highway Recordings)
Say what you like, but Jeff Dahl ruled the punk rock roost for many of us in the 1980s and '90s. Working with Cheetah Chrome, Stiv Bators, Poison Idea and spending time in Angry Samoans, he churned out a prolific stream of Stoogesque and glam-splattered albums under his own name, firstly out of Los Angeles and then from a ranch in the Colorado desert.
Dahl also edited the coolest zine in the world ("Sonic Iguana") and mentored many like-minded bands. No matter that he played shows only rarely in his home country. Jeff toured Europe and Japan and kept the Real Rock and Roll torch alight. After relocating to Hawaii and taking a decade-long hiatus, Jeff Dahl spat out the formidable "Made in Hawaii" album in 2017. "Electric Junk" arrived in late 2019.
"Electric Junk" is very much a return to the classic Jeff Dahl sound. It's not that "Made in Hawaii" wasn't recognisable - it just had a different tone. "Junk" is back to the bare knuckles sound of the '80s - melodic but abrasive - replacing teenage Hawaiian references with a few well-placed lessons from Oblivion, USA.
"Electric Junk" has Dahl playing guitar and bass, with drummer Sam Bradley bringing the feel. Radio Birdman's Deniz Tek guests on guitar on two songs, and Dave Swain adds piano on another.
Opening cut "Until We Bleed" sets the scene for the get-go, its trebbly punk edge making a statement of intent. "Superstar Cafe" is on the same page, a glammish depiction of a dangerous scene (how can I fix you when I can't fix me?") powered by a malevolent guitar riff. Its cousin is "I Am So Wasted".
Dahl's knife-edge slide gives an edge to the glam "In My Mouth", a raging commentary on the state of a fucked up world. "NFG" ("no fucking good") is classic Dahl rock, a reject's tale with added guitar sting from Tek. The staccato work-boot stomp of "The Violence Squad" (with Tek again guesting) works well and contrasts with the straight-ahead blues rocker "The Woo Girls". "Psychedelic Spaceman" is wrapped in a corrosive guitar sound welded to another cast-iron riff.
Deep down, however, you know that Jeff Dahl always wanted to be Ian Hunter and the piano-and-vocal-only "Weirdly, Richard" could have walked off "All American Alien Boy" in all its stark beauty.
Buy the CD from the man himself here or find vinyl via the Ghost Highway label in Spain sooner or later (which is code for it not being in their store yet)..

1/2
Tags: poison, ghost highway, stiv bators, los angeles, deniz tek, jeff dahl, made in hawaii, electric junk, ghost highway recordings, angry samoans