The Dunes - The Dunes (Off The Hip/Oak Island)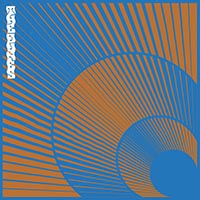 Admit defeat when you see it: The groovy font and blue-on-blue titling on this album made reading the song names impossible for ageing eyes. Fortunately, you don't need to know the name of a track to dig it. On with the review...
The Dunes are a young band with Adelaide playing on old style of drone-y, fuzz-laden, psychedelic rock. Their songs are dark and blissful at the same time. Played at stun volume, they're deeply engaging. Reverb-laden girl and guy vocals, winsome organ and shimmering, tuned-down guitars, It's easy to get lost in the flow.
There are nine songs - two of them are the same one ("The Intergalactic chic Drifters Inn Welcoming Centre Theme Song Pts 1 and II") placed as book-ends at the start and finish - and they all hover around the six or seven-minute mark. If you, too can't work out the titles, their Bandcamp page will help. It doesn't really matter. They're all outstanding.
The surging "(Just Because You're Not Being Followed Doesn't Mean You're Not) Paranoid", the majestically drifting "Making Friends With Codeine" (sung by wonderfully percussionist Stacie Reeves) and the brooding "Mountain" are the centrepiece songs, potently placed with each other in the middle of the record.
"Mountain" is especially blinding. Vamping organ duels with Matt Reiner's guitar bent out of shape with pedals in some sort of sonic dance-off. A student bass-line and thumping beat tether the song down for a good part of the way but never stop it taking flight. Come to think of it, "Parish" scales similar heights in its nearly nine-minutes of layered keys and guitars.
"WKNDS" is a cover, apparently, but Stacie Reeves' Nico-esque vocal makes it, along with the slow-burn fuzz guitar. And Jess Honeychurch's slowly unfurling keys.
They might be one album into this thing but The Dunes are obviously a band unafraid to run with an idea as far as it will taken them, and throw in some aural experimentation for good measure. Electric sitar from guest Ricardo from Sons of Zuku takes "New Old" somewhere else.
Recorded by John McNichol at Twin Earth Studios in Adelaide, and mixed and then mastered by Brett Orrison in Austin Texas, "The Dunes" sounds magnificent - and very analogue.
The so-called "shoegaze" stuff is hit or miss for me - too much navel-gazing can dissipate the energy - but there's a distinctive individual essence that takes "The Dunes" to a higher level. Off the Hip for CD, Oak Island for vinyl.

2/3
Tags: psychedelic, adelaide, fuzz, the dunes, shoe gaze