This French band's EP is one Sweed ride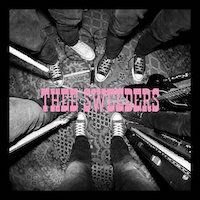 Thee Sweeders - Thee Sweeders (Let's Sweed Records)
No idea if there's a decent garage rock "scene" of any sorts in Annency, France. The French tend to do to rock and roll what Australia's backpacker killer Ivan Milat did to tourists, both using a place called a shallow grave, but if there is, it's lucky to have Thee Sweeders as part of it. This release is six tracks on vinyl of fine, hard driving punk rock and roll.
Comparisons are often odious and best avoided but let's pause and consider a couple:
The Murder City Devils gave equal prominence to keys and guitar and produced some of the best Stooges-in-the-garage skronk to come out of Seattle, Washington, in the wake of grunge in the '90s.Thee Sweeders peddle a similar style, with Oliv's swirling electric piano mixing it with Cuibs' chunky guitar. Sweeders vocalist Gilles approximates Spencer Moody's uncivil yowl - and probably speaks better English.
The other reference point surely must be The Visitors. Thee Sweeders don't have the same sense of drama and doom but they do a nice line in Detroit fire-and-brimstone with room to breathe on "Can't Sleep". "Nice Suit Man" has more brevity but a similar sensibility with its let's-hit-the-highway feel. Not so much a Journey by Sledge as a Trip by Renault...
"Town To Town" is a great song, hands down, and has an insistent vamping piano heart pumping away. "Real Cool Time" (not that one) is a speedy and muscular rocker with drummer Flo (90 percent of French bands seem to be mononymous) right in the pocket as the band shows off its acute sense of dynamics. "Nowhere To Go" and "Town To Town" are more of th same goodness.
No surprise to see Thee Sweeders citing the Mono Men in their bio, too - or to see French high energy production maestro Johnny Cat was the man behind the mixing desk. His Rock On $tudio$ are a Mecca for this sort of rock and roll and this EP was banged out in just two days.
You can pick up a download for the price of a song on Bandcamp - it's a name your price thing for the digital version but you know you wanna cough up some decent change to help struggling musicians - or be like me and track down the vinyl. It's in a run of 200 copies.
Wish it had been an album.

1/4
Tags: garage, garage punk, johnny cat, thee sweeders, let's sweed records, murder city devils, mono-men