Triprapport - Uffe Lorenzen (Bad Afro)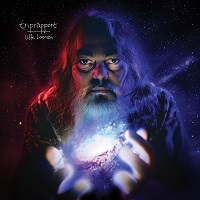 Odds are that this release and its maker are unfamiliar to all but a select or knowledgeable few and they live in Europe. If you don't - or even if you do and you're in the dark - here's what you need to know:
Uffe Lorenzen is the frontman of Danish bands Baby Woodrose and Spids Nøgenhat. The onetime bedroom musician created a stir on the European festival circuit a decade or more ago, but now records under his own name.
Baby Woodrose was acid-flecked garage rock and Spids Nøgenhat trippy space rock. "Triprapport" is folk-ish psych rock with a glossy sheen that's well-produced without discarding its earthiness.
Mushrooms were involved in the making of this record. Loads of them. Uffe locked himself away in a wintry country house for two weeks and wolfed down enough of those little buggers to melt most peoples' minds as he sketched out these seven original songs and one cover. He later worked them up to their present form in a swish Copenhagen studio.
Lorenezen sings and plays most of the instruments with help from Anders Kjærgaard (synth), Adam Dreisler (flute), Vicki Singh (sitar/tablas) and Peter Knudsen (lapsteel).
And one more thing…the songs are all sung in Danish.
Don't let that last point be a game-breaker if you're mono-lingual. It's not a barrier – unless you're a diehard lyrics person. In which case, do a language course and don't rely on the vagaries of online translations. This is one excellent album – especially if you're keen on headphones that enable the breadth of its production to seep through.
Mellotron, fuzz and delay guitar, flute, synth and sitars abound. The songs are lengthy (only one clocks in at three minutes) so listeners with ADHD may want to direct their ears elsewhere.
Opener "Psykonaufen" sets the scene with its slow and deliberate pacing that evokes a certain grandeur. It's like early T-Rex or The Soundtrack of Our Lives circa "Extended Revelation for the Psychic Weaklings of Western Civilization" (that it, before it got serious.)
The album's concept is allegedly about travelling through space and then riding a river that flows past the home of a female Intuit shaman (stick with me here) with a bit of death and re-birth thrown in there to keep it interesting. You don't have to be a fan of reincarnated unicorns or even bustles in hedgerows to enjoy the trip, however. Just go with the flow.
There's a lot of variety and broad dynamics in the sound of "Triprapport". The pace never gets past a walk or a tripped-out stumble and the moods range from the elegiac ("Floden") to ominous ("Aldrig Mere Hed") to the blissfully whacked out (the sitar-infused title track).
It's on vinyl (the LP is limited to 1500 copies on black vinyl) CD and as a download. Don't let Uffe Lorenzen be a stranger.



Tags: bad afro, lorenzo, baby woodrose, triprapport, Uffe Lorenzen