James McCann and his New Vindictives hit the City of Churches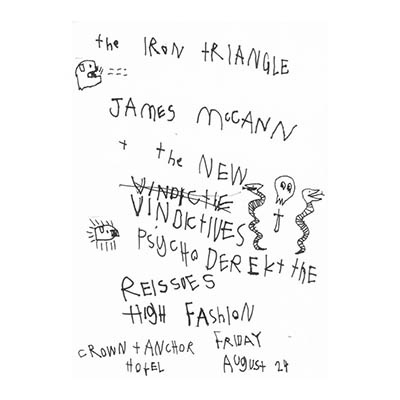 The enterprising James McCann and his recently re-configured New Vindictives venture out from Melbourne for the bright lights of Adelaide this weekend to play with local band Iron Triangle.
The bill - including Psycho Derek and The Reissues - will grace the Crown and Anchor Hotel on Friday night from 8pm.
Because we like modern art, here's the poster by the bass player from Iron Triangles' six-year-old son.
Says James: "It's good to be heading back to the home of Bad Boy Bubby, Grong Grong and Stu Spasm. Things will get weird in a good way."
Iron Triangle are said to be like a "musical car crash between Don Walker and Grong Grong". That should be fun.
This will be a special show for the New Vindictives who will be playing a trio with new bass player Sam Fiddian (Mick Dailey and the Corporate Raiders, Cold Irons Bound.)