Win a Simon Chainsaw pack on us!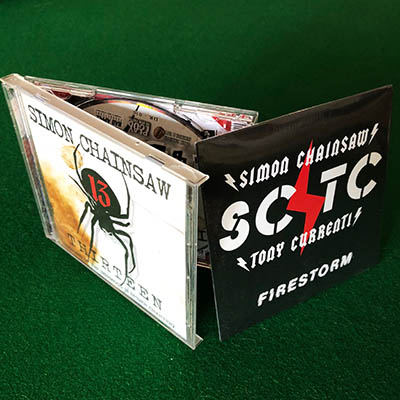 It's giveaway time at the I-94 Bar and we have five Simon Chainsaw packs to grace the CD players of some lucky Barflies.
Simon's new album "Thirteen" has just been released and it's characteristic high-energy rock 'n' punk from the Sydney-via-Brazil frontman. So named because it's his 13th studio album under his Simon Chainsaw moniker, it throws the odd stylistic curve ball just to keep things interesting but is mostly packed with raucuous pop-punk raunch.
Also in the Simon Chainsaw pack is the two-track CD promo for the other rock and roll project occupying Simon's time. SC/TC is Simon and former AC/DC drummer Tony Currenti collaborating on a two-song single drawing from the inspiration of good ol' fashioned Alberts label Oz Rock.
To win a pack, drop us a line This email address is being protected from spambots. You need JavaScript enabled to view it. and name the high-energy Australian band Simon fronted in the 1990s. Clue: (The initials were V.C.) Include your mailing address - and good luck! If the email link doesn't work, turn off your pop-up blocker or email your answer with name and addres to barman(at)i94bar(dot)com
For anyone who can't wait until we draw the contest, you can order the new album by emailing SimonThis email address is being protected from spambots. You need JavaScript enabled to view it..