Surely a date to put in your diary. Other cities to be announced soon. Here's the promo clip.

New Zealander Delaney Davidson is like a lot of musicians who saturate themselves in the blues, country and modern rock.
Unlike the majority, he still gets it. The music is as vital for him now as when he picked up a guitar. He's never still, always moving to improve and expand his range. Why? Because he doesn't want the songs to sound the same.
I must apologise - this has been sitting along with a couple of other CDs, waiting their turn as I try to complete a documentary about a rather brill Australian rock band and another book. I've been a tad busy elsewhere too. So the review may be a little old.

Should you chase a copy?

Take the massive rhythm section of Fear and Loathing, add ex-Love Fever and Primevils' David Mason on one guitar and the redoubtable Sean Tilmouth on the other guitar and you have a crunching, bowel-scouring rock band.
The Bums were first put together a few years back by the late Renestair EJ; their first gig featured a rather heatstroked Ren beaning a startled Mr Tilmouth with the mic stand. Mr Tilmouth's response to this was not, "I say, that's a bit harsh, Ren old buddy". No.
Sean knocked Ren out cold, and floored him again when Ren got up and went for the cuddle of forgiveness. I've seen the video and this band owe me a new pair of underpants.

Once upon a time blues had led rock to a powerful, muscular, emotional place.
You don't see this much anymore. And most of the practitioners who plod from town to town are long, long past their relevance (never mind their heyday).
But Love Child from Sydney...now here's the kind of band you want to see on a Saturday night but you're not allowed out anymore. There are no duff musicians here, it's all tight and glossy and yearning. The singer, Steve Hancock, has the sort of voice which swells men's chests and moistens um, erm, lady's lips. He really knows how to belt a song out. The girls must heave themselves at him like despairing lemmings.

What a brilliant record this is. I've played it about six times since buying this one on spec. Fuck but it's great.
See, this is why I like exploring Amazon. The Clash were panned in their day for their dub experiments, journos always banging on about how super they were live.
Funny. I saw them once and got bored fairly swiftly. Their LPs are not always cohesive, but sod that. That's what cassette tapes were for, and making your own versions of their LPs was always fun.

If you don't know Sun God Replica, they're a hairy floor-filling Melbourne three piece (led by Link Meanie) who enjoy breaking bones and throwing stones. With amplifiers, harmonies and a smirk at the back.
Sun God Replica are also the kind of band which would do well overseas. Get outta town, boys.

At first, second and third glances there are copyright problems all over this CD EP. And that's just the cover. This is wonderful.
Inside we have three beguiling, entrancing tunes - the title track, "Vice City Cop" and "Space Lounge." Your intrepid reviewer has been exposed dancing to all three, and even bouncing around in an Adelaide radio station studio to "Let's Go To A Disco!" Is it a band or an individual? These days you can't tell.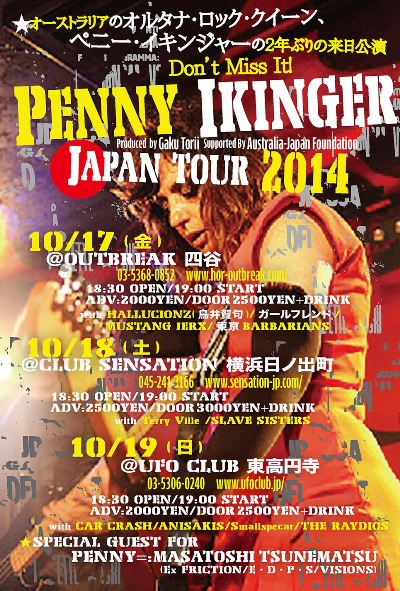 Australian sonic chanteuse Penny Ikinger is taking her unique sound to Japan again - this time to record as well as play live.
Penny has teamed up with Radio Birdman's Deniz Tek to write new material on the first stage of her next musical offering. Stage two then takes Penny back to Japan to team up with her Japanese musical crew to record the songs.
"I've collaborated before but this time I've taken it to another level to really challenge my approach to writing and to bring a fresh new sound to the music being created," Penny said.
"Deniz is a fabulously talented musician and opening up the music for a true collaboration was an experience that brought new energy and ideas to the whole process."
But that's not the end of the story. Penny will now take these songs to Japan where she will further collaborate with her Japanese musical partners from recent tours.
"Last time I went to Japan in 2012 I performed with some amazing psychedelic rock musicians – Masami Kawaguchi (guitar), Louis Inage (bass) and Keiichi Sakai (drums)," Penny said.
"This time around we'll play a few gigs, but the main focus will be recording this new material and having the guys bring their unique flavour to the songs.
"I'm really excited about the possibilities of where we might go with this – the crew in Japan are extremely talented musicians and although their sound aligns with my style, they are quite different in their approach."

A few weeks ago I went out in search of crunching, scabrous rock'n'roll. Headlining were Fear and Loathing (their usual ramshackly brilliant horrorshow), Leather Messiah just before (their new stuff is fabulous. Remember how Legends of Motor Sport were great fun but seemed to lack something? Leather Messiah have that extra something - they're a burnout, man).
The band I was curious about, Iron Feather, were second on the bill, and within seconds of punching us all out, assorted members of the Messiah and FAL were front and centre, thrilled.
And you know how old and past it we all are. Who the fuck are Iron Feather?
More Articles ...