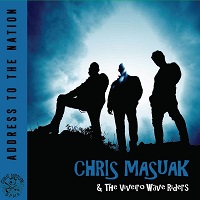 It's been three years since Chris Masuak released his "Brujita" album with his rip-roaring rock combo The Viveiro Wave Riders. A bitter-sweet record that was full of melody, hooks and razor-sharp lyrical daggers. Subtle, Chris was not.
With the new album "Address to the Nation", there's the sense that he and his band have many gigs under their belt since then The Spanish-based Wave Riders are developing into a very tough, street-level rock monster The rhythm section of drummer Juan Martinz El Kara and bassist Abe Coreujo is as tight as a bloke with middle-aged spread putting on his stovepipe jeans for the first time in 30 years.
Opening track "1776" takes no prisoners with its blistering attack and soaring guitars telling you that the valves of the Marshalls are truly lit. That rhythm section is sounding like a semi-trailer on the Hume Expressway. Masuak's cynical, anarchic approach to a topic like the Trumpian world in which we are living would surely have the Founding Fathers rolling in their graves. In just over three minutes, Masuak and his band nail the mess that the 'Murican empire has become.