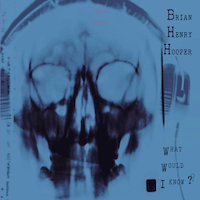 What Would I Know? - Brian Henry Hooper (Bang! Records)
Brian Henry Hooper was a remarkable man. I first encountered him when he was part of Kim Salmon's band, The Surrealists. I had no idea what to expect, and the huge shattering sound, the big horror-show songs, and Kim's howls backed by two droogies from an abbattoir ... my mouth was flat on the floor. Magnificent.
It was many years later that I met Brian for the first time, more or less by accident at a different gig, when I used a rather unpleasant local term which Brian immediately picked up on - "That's a real Adelaide term, isn't it?" Brian was always interested in the world around him - I recall him also relating how beautiful Adelaide was as the aircraft came in to land ... come in the right way to land, I suppose, and even ...no, that's not right. I knew what he meant, the place can be damned pretty.
No, really. Brian liked Adelaide.