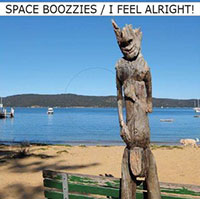 With Sydney's long-running Dunhill Blues on hiatus, bassist Adam has opted to crank up the rumble with a new band, Space Boozies. "I Feel Alright" is their debut LP.
The Dunnies have been through several phases - garage big band, thrash country rock and battered blues rock - and but for a few superficial similiarities, Space Boozies sound a lot like none of them.
The Boozzies keep it short and sharp but there's a touch of bitter-sweet jangle in the guitars. Their music is still parked in the garage, but it's not as determinedly abrasive. Think of them as an Antipodean version of The Raunch Hands. Music to drink rather than to think by.
Where the Dunhill Blues wanted to tickle Nick Cave, Space Boozzies are keen to share some quality time with Australia's Queen of Decollage ("Tonia Todman's House") and swap egg recipes with Peter Russell-Clarke. The irreverence of the Dunnies hasn't gone away.