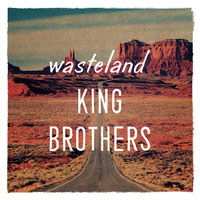 Unless I've blinked and missed them, it's been more than a decade since King Brothers appeared on Australian stages and 20 years since they started as a band. Time is rarely kind to any of us, however King Brothers' trademark brand of brutal "hardcore blues" not only remains intact but has blossomed.
"Wasteland" might be their sixth or seventh full-length album - background is hard to dig up on the Interwebs when you don't read Japanese - and it leaves little to the imagination.
King Brothers are a two-guitars-and-drums trio from Nishinomiya City whose sound has been called "the Germs backing Howling Wolf". Eric Oblivian reckons they're the best band in the world and they tour the world constantly.