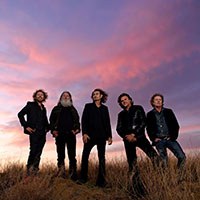 In April 2007 I sat opposite Spencer Jones and Greg 'Tex' Perkins in a booth downstairs at the Prince of Wales Hotel in St Kilda. The occasion was an interview to promote the release of the Beasts of Bourbon's first studio album in 10 years, "Little Animals". Having recently arrived back from a short tour of the United States, Spencer and Perkins were weary from the long-haul flight.
Perkins was in Beasts mode – cocky, enigmatic, and just prickly enough to remind you who was the tough guy here. Spencer was, as he always was, just Spencer – the cowboy hat, a faint smile, and a reassuring honesty that defied his decades of service in the duplicitous, ego-obsessed world of rock'n'roll.
A fraught fraternal atmosphere hung over the interview. Spencer and Perkins had been friends, band mates, fellow reprobates and occasional antagonists for the past 25 years. They were like brothers, Perkins once mused, and like brothers they loved and fought. And Spencer and Perkins were the only remaining links to the genesis of the Beasts of Bourbon, an irreverent make-shift band thrown together to fulfil Perkins' gig commitments at the Southern Cross Hotel, way back in June 1983.