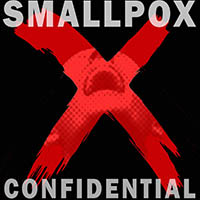 When records are possessed of avant garde qualities, it is often difficult to assess them without addressing the political and social milieu from which they arise. Throbbing Gristle? Psychic TV? Half of the explanation comes out of the statement of intent.
Claim the key to the brown note. Wank your way to self realisation. Decisions. Decisions.
Because one man's meat is another's poison. Upside is down. Why is one man's white noise better than another? Judgeth not thy feedback lest thy feedback may be judged.
Smallpox Confidential is, at least in main part, the brainchild of one Robert Brokenmouth of this parish. It is less abstract than his previous release but that doesn't mean there's not enough feedback and rant poetry to go around.