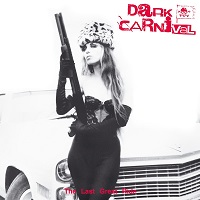 More like The Lost Great Ride because it's been hard to find in any format, this vinyl re-issue of Dark Carnival's 1997 studio swansong tells you all you need to know about this Detroit ensemble. Bang! Records have given it a re-master job and restored two tracks that were found on the CD version but omitted from an earlier LP edition.
Dark Carnival was built around vocalist Niagara and guitar god Ron Asheton with a floating cast of players, who were a Who's Who of the denuded but defiant Michigan punk underground. A direct descendent of Destroy All Monsters, Dark Carnival thanklessly played in and around Detroit for years, even making it to Australia for a lengthy 1991 tour.
Of course, they never got their due accolades. There's one universal truth that's harsher than the menu at a homeless shelter in the Cass Corridor in winter and it's this: Being a Best Kept Secret is great for your cool kid cred but doesn't buy you more than a cup of shitty Starbucks coffee. Ron (R.I.P.) had to wait for the Stooges revival, and Niagara for her painting career to take off, to make it onto the broader cultural radar. As the Carnies make clear, life really is for sissies but it's infinitely easier when you can pay the rent.