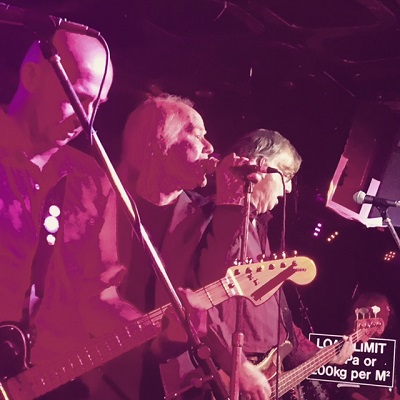 Sometimes you get all philosophical. The penny dropped on Saturday night, after a succession of $14 jugs of beer with a mate, that the New Christs are probably the band that I've experienced live for the longest number of years.
Of course there have been so many line-ups that a statement like that becomes very elastic. But the wrist stamps don't lie...
And they go right back to 1984 when a loose and limber Rob Younger bounded onto the stage of Sydney's Capital Theatre, fronting the band's first live incarnation, in support of Iggy Pop.
That line-up of Chris Masuak, Tony Robertson, Mark Kingsmill and Kent Steedman (the Rifle later to be subbed by a Spider, Richard Jakimyszyn) might have been equalled by the "Distemper" one (Charlie Owen, Jim Dickson and Louis Burdett/Nick Fisher) but never bettered. The former had a brutal edge, the latter a bluesier, expansive feel with jazzy inflections.
The current configuration of Dickson, Paul Larsen, Dave Kettley and Brent Williams measures up nicely in the history of the New Christs, probably sitting at level-pegging with the late-'90s line-ups. They've all served up differing sounds and brought something different to the stage, with the one constant being Younger's undeniable presence and bitter-sour song-writing.
"Emotional Jihad" and "Word Salad" are terms that others have used down the years to describe Younger's lyrical vision. You can't do much better than that.