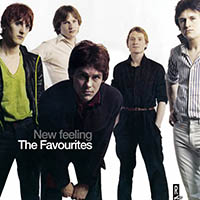 Sounding every bit like a band born out of time, The Favourites have released their debut album - 40 years after they expired.
Throw your mind back to 1977-79 (pretend, if you weren't born) and think about the music de jour in the UK. Punk? Ska? New Wave? It sure wasn't Power Pop. What was around used the descriptor New Wave and was at the mercy of the notoriously fickle UK music media. So-called provincial bands (not based in London) had their work cut out.
The Favourites grew out of two Nottingham bands, the DTs and Plummet Airlines, the latter signed to Stiff Records. Their two-and-a-bit-year existence was peppered by recording sessions and live work, and they shared stages with Squeeze, The Rich Kids and The Only Ones.