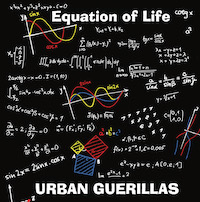 Equation of Life - Urban Guerrillas (MGM)
Ever been in a position where you didn't know what to expect when a disc landed in the CD player? That's often a good thing. My preconceptions of Sydney's Urban Guerrillas as inner-city, squat-dwelling, agitprop punk preachers are somewhat passe, and almost abandoned after a couple of spins.
The UG sound is more folk-pop than punk rock these days, and the concerns of the seven tracks on the "Equation of Life" EP are mostly universal. Not that the band was ever stuck in one sound. There's a splash of Celtic pipes in "Divine Image" (a William Blake poem set to music) and "What I Wish For" sets out a societal manifesto with a stab of mandolin in its mix.There's also enough chugging guitar and urban angst in "Claustrophobia" to light up a street-full of terrace houses in Erskineville.