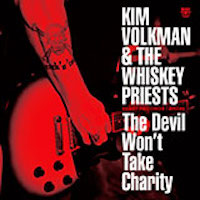 KIm Volkman and the Whiskey Priests come from Melbourne. No shock there. Most of the best Australian rock and roll does. And this is a record - like most of them - with a beginning and an end. No shit again, Sherlock. The distinction is that the songs at each end book-end and define what's inbetween - and it's pretty fucking great.
The slightly frayed vocal of opening track "I'm Still Standing (Alive and Well)" and its swaggering, Oz Rock chug suits its survivor sentiment to a tee. And the cover of the Jagger/Richards classic "Silver Train" that closes the album is pulled off with consummate, ragged ease.
Stones and Oz Rock. They're children of the blues. Throw in the inevitable Ian Rilen and the Love Addicts comparison (more on that later) and you'll appreciate how "The Devil Won't Take Charity" nails its colours to the masts.