Computer Girls b/w Renegade - Wolf 359 (Iceage Productions)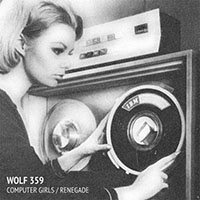 I love Wolf 359. Excellent stuff. Determinedly analogue-y and old-school riffs and tendencies (if you describe that squelching-with-intent sound some synths make as a riff), it's like a musician visiting from 1978 and eyeing us all with amused disdain.
And then, realising that this is their future too, snarling with all the repressed eloquence disgust can muster. Love the '90s beat vibe, with the rippling, pounding synths... not quite yeah hup, but I'll stay here and throb instead.
It's a digital single, available here.




Tags: computer girls , renegade, wolf 365