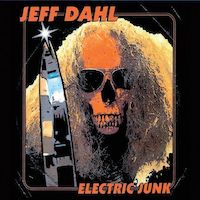 Electric Junk - Jeff Dahl (Iwannabeahoople Records/Ghost Highway Recordings)
Say what you like, but Jeff Dahl ruled the punk rock roost for many of us in the 1980s and '90s. Working with Cheetah Chrome, Stiv Bators, Poison Idea and spending time in Angry Samoans, he churned out a prolific stream of Stoogesque and glam-splattered albums under his own name, firstly out of Los Angeles and then from a ranch in the Colorado desert.
Dahl also edited the coolest zine in the world ("Sonic Iguana") and mentored many like-minded bands. No matter that he played shows only rarely in his home country. Jeff toured Europe and Japan and kept the Real Rock and Roll torch alight. After relocating to Hawaii and taking a decade-long hiatus, Jeff Dahl spat out the formidable "Made in Hawaii" album in 2017. "Electric Junk" arrived in late 2019.