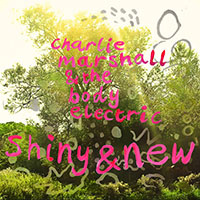 "Shiny and New" is quite a trip. For a start, there's not so much a wall of sound as a wall of optimism, to the point that, because I've been smiling so much, my face is hurting.
There's a ton of soul, great swathes of bouncing joy, all wrapped up with a powerful sensibility of constant delight at the universe around us. I mean, who on earth apart from Stephen Hawking would conceive of a song about gravity?! And be able to realise it so magnificently? (Oh yeah, that's Hawking out. Couldn't sing worth a damn.)
I found myself wondering if the choice of covers came after the rest of Charlie's original songs had been assembled; "Mercy Mercy Me" - Marvin Gaye; "Move On Up" - Curtis Mayfield; and "God Only Knows" - Brian Wilson and Tony Asher. Because they snuggle effortlessly alongside Charlie Marshall's songs, swinging with style and pizzaz, providing such perfect thematic links. Ontime Harem Scarem frontman Marshall has made these classics his own.