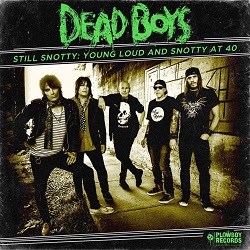 Here's some news that will stir the embers of controversy. Original Dead Boys Cheetah Chrome and Johnny Blitz have been taking a line-up on the road in the US to celebrate the 40th anniversary of the band's seminal album, "Young, Loud and Snotty".
Now they've announced they're releasing a re-recording of the landmark record.
"Still Snotty: Young, Loud & Snotty at 40!" is being released on Nashville-based Plowboy Records on September 8 with a US tour kicking off in Dallas, Texas, on September 7. A handful of dates have been announced and you can follow the itinerary here.