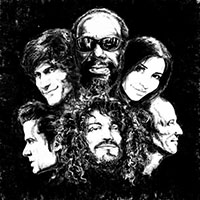 Detroit boy and founder of The Gories, Mick Collins, always did love to fuck with expectations in The Dirtbombs. Now, he's doing it again with some new playmates in Heavy Trash's Matt Verta-Ray, Matt's wife Rocio, and members of Swiss creole kings Mama Rosin.
"Subway Zydeco" sounds like it was cooked up in the kitchen of a cajun restaurant in the East Village, with a liberal sprinkling of blues. You can bet a New York minute against a free ride in a checker cab that this was exactly the intention. It's an LP of obscure 45s taken off a Louisiana jukebox and transplanted to a New York City dive bar.
If you came expecting a Blues Explosion - Jon Spencer co-founded Heavy Trash with Matt Verta-Ray - you're in the wrong place. "Subway Zydeco" is more folky than swampy, its pumping rhythms tied to accordion for most of the way.