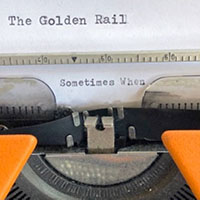 If you heard the debut album you know what to expect: These four veterans - supplemented by producer and multi-instrumentalist Nick Batterham - have been around too long to put a foot wrong, so it's stellar guitar pop all the way.
With origins going back to Perth popsters like The Palisades, The Rainyard, Header, Summer Suns, DM3 and The Jangle Band, a
re-grouping in Australia's music capital, Melbourne, would be hard-pressed to fail.
The 10 songs are co-writes by guitarists-vocalists Jeff Baker and Ian Freeman and they're exactly what you don't expect to hear on mainstream radio. In other words, they're full of understated melodies, feels that sit back in the pocket and chiming guitars.
The Golden Rail's evocative sound winds things back to the '80s, capturing echoes from the preceding decades.