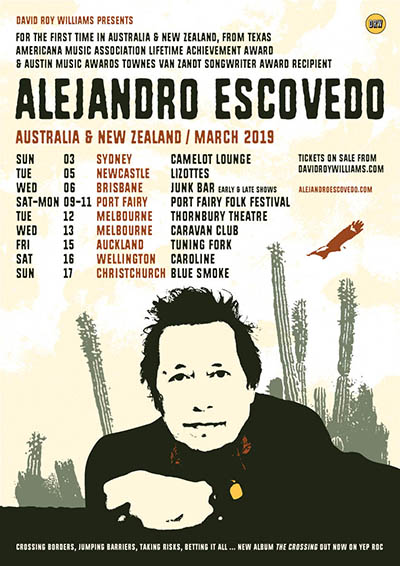 Legendary Mexican-American singer-songwriter Alejandro Escovedo will tour Australia for the first time in March 2018 on the back of his acclaimed new immigration-themed album The Crossing.
 

Escovedo is a seminal figure in Texan music and one of the most acclaimed American songwriters of his generation. He's a recipient of the Americana Music Association's Lifetime Achievement Award and will be honored with the Townes Van Zandt Songwriter Award at next year's Austin Music Awards.


Alejandro has released 11 solo albums and contributed to numerous others, as both band member and guest. His songs have been recorded by the likes of Lucinda Williams, Steve Earle, Ryan Adams, Cowboy Junkies, and Calexico, and he's shared stages with everyone from Bruce Springsteen to John Prine to Mott The Hoople's Ian Hunter.
Alejandro's latest album, "The Crossing", released in September 2018 on Yep Roc and one of the most acclaimed of his career, looks at matters of immigration and the broken Promised Land that is America through the focused and unflinching poetry Alejandro is known for.
It includes cameos from underground rock royalty in the personages of MC5 guitarist Wayne Kramer, Stooges guitarist James Williamson and Peter Perrett and John Perry of The Only Ones, Texan country great Joe Ely and acclaimed novelist and Richmond Fontaine/Delines songwriter Willy Vlautin.
 

REM's Peter Buck and the Velvet Underground's John Cale have both served as Alejandro's sidemen in addition to being his producers, a role also filled by legendary Bowie and T.Rex producer Tony Visconti, who produced a run of three albums for Alejandro spanning 2008-12.