BARFLY TOP TEN: Peter Ross (aka Rossy aka The Celebrity Roadie)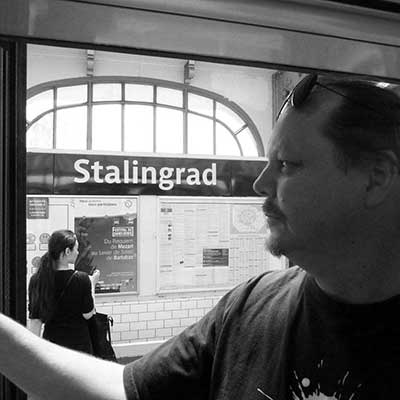 1. FRIDAY NIGHT HEROES - LEADFINGER LAUNCH AT THE FACTORY FLOOR, SYDNEY
Wollongong's finest, led by Stew Cunningham, blitzed the Factory Floor in Sydney launching their album "Friday Night Heroes", my favourite Australian release of the year. Dillon Hicks, Reggie Screen and Mick Boyle certainly brought their A game in front of an augmented line-up that included Carrie Phiilis on BVs, Doug Hazell on sax and Andy Newman on keys. I could have sworn it was the E Street Band at one stage. Extra points for covering Warren Zevon's "Lawyers, Guns and Money".
2. THE AXEMAN'S BENEFIT - SPENCER P JONES BENEFIT
A killer line-up of The Johnnys fronted by a gang of Spencer's pals... what's not to love? Acoustic Hoodoo Gurus and a stellar performance from The Died Pretty playing to a chock a block room upstairs at The Factory. An unusually cordial and prompt collegiate vibe amongst performers raised a great wad of cash for a good cause.
3. BRUJITA – CHRIS KLONDIKE MASUAK AND THE VIVEIRO WAVE RIDERS
My old pal Klondike's newest solo record was so full of catchy pop hooks that I couldn't get it out of my head for six months. Great songs, sonically perfect production and guitar playing worthy of this Aussie-Spanish-Canadian legend.
4. THE MUMMIES – HERMANN'S BAR, SYDNEY
Budget rock… but premium blend. The Mummies were hilariously awesome… The garage is strong in this one and I like it. Supported by a Turnbuckles line-up with a couple of super subs… if you couldn't dig it you must not have a pulse.
5. IT'S THE ON AND ONS CALLING – THE ON AND ONS
The debut album from the Sydney veterans ticked all the boxes for me. Glenn Morris's prolific output and infectious pop songs went down a treat.
6. EIGHT DAYS A WEEK: THE TOURING YEARS
I know I'm going to get smashed because I do not worship at the altar of the Stones… but this documentary, if you didn't get a chance to see it on the big screen, is a great snapshot of the biggest band in the world at their peak. Ringo Starr's under-rated drumming propelled this rocket ship to the top if Paul McCartney is to be believed. This movie chronicles a bunch of young men who could not believe what was happening around them or take it seriously. Due to copyright problems the hard copy release doesn't feature the entire Shea Stadium gig but I hope they can resolve it so it can be seen in its 4K remastered finest.
7. BOB SHORT & ROBERT BROKENMOUTH'S REVIEWS
If you, like me, spend a bit of time at the I94 Bar you'll have come across the musings of this pair of scribes. Part poison-pen NME style attack dog. part anarchist Bob Short's reviews have been leaving me wanting more. Adelaide based Robert Brokenmouth has contributed an intellectualism to the site that is most welcome. I'm never left wondering what this pair is thinking. More please!
8. VINTAGE TROUBLE – FACTORY THEATRE, SYDNEY
This retro styled R'n'B act from California are one of classiest visitors to these shores in a while. Rock'n'roll with a dash of James Brown, via singer Ty Taylor, and they killed it. Start at their Bomb Shelter Sessions album and work your way through to One Hopeful Road. You won't regret it.
9. CHANGES TO SYDNEY'S LOCKOUT LAWS
Sydney's contentious lockout laws have been relaxed for venues in Sydney's CBD and Kings Cross that offer live entertainment, performances or art and cultural events, as part of a two-year trial. Constant lobbying from Live Music Office's John Wardle is to be applauded. Anything that gets more gigs and places for people to play has got to be a good thing, right?
10. HOLDING BARMAN TO ACCOUNT
Anyone who follows the licensee of the I-94 Bar on social media may have noticed that his love of Donald Trump (ED: Bullshit), coal-powered anything and News Corp can be disconcerting. I attempt to address his imbalance but it can become quite a chore. I've had many queries about whether The Barman is serious about his views. I assure you he is… but I will continue to be an effective opposition and keep him heading towards his personal road to Damascus.
Peter Ross is a former tour manager for top Australian bands.
Tags: top ten, peter ross, rossy