BARFLY TOP TENS: Chris Virtue of 2RRR-FM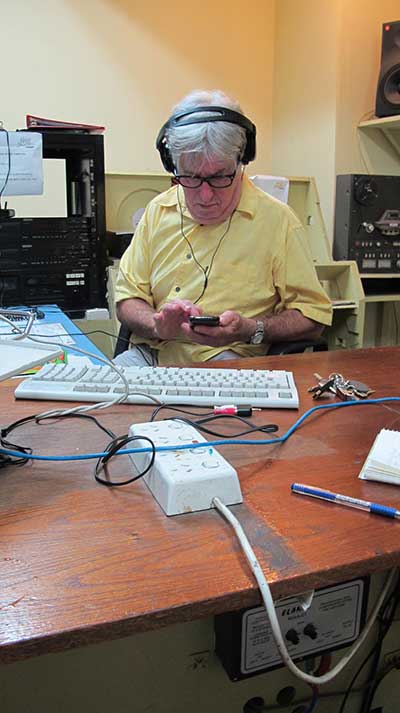 In no particular order...
Garry Gray & The Sixth Circle:
The former Sacred Cowboys frontman's "Diamond in the Forehead" was one of the stand out albums of the year. Great songs, big unhinged guitars, fantastic vocals and solid rhythm section behind it. You could be forgiven for thinking that their show at the Factory Floor would be sell out, but no. Barely 50 people witnessed one of the gigs of the year. Supports Leadfinger were fabulous (they always are) and the Chickenstones put on the best show I've seen from them.
Leadfinger's "Friday Night Heroes":
Stew and the boys were back with their fifth and best to date album in "Friday Night Heroes". Great songs for grown ups, plus two excellent guitarists and a top notch rhythm section. The album was backed up with some fantastic shows. Probably Sydney's best rock band at the moment and it makes me wonder what things would have been like in another era when people actually bought and went out to see this stuff. One of the albums of the year.
Jim Dickson's "Coelum Verses":
The year's most unexpected debut? Yep. This is not what I would have expected from the New Christs and Birdman bassist. It took a few listens before I really got into and then the penny dropped – one man's journey through a life of listening to and playing music. Anyone who's had a beer with Jim knows that he has an encyclopaedic knowledge of music and is a hell of a nice guy too. After each listen, this record was becoming less surprising and more enjoyable. Great songs, great band, great production. Can we have a live show please Jim?
Iggy Pop's "Post Pop Depression":
Over the last 25 years or so, Iggy's records have been patchy at best. This one was recorded with a small band with production responsibilities handed over to Josh Homme. Stripped back, tight and brooding, it looks backwards and forwards. It's the sum of where he's been and may be where he intends to go. For mine, his best since the Berlin albums he did with Bowie. Compelling. Iggy's not done yet.
You Am I, Newtown Social Club
I reckon if you draw a line through all the great front men and women from the 1950s on, it runs through Elvis and Chuck and Mick and Janis and... Tim Rogers. I first saw You Am I a quarter of century ago and they blew me away. They still have it and they should never have been allowed to leave Sydney. Indonesian band The Sigit were in support and were a deadset revelation.
Black Cab, Newtown Social Club:
Black Cab is one of the best bands in the country and has been since the get go. The guitars are now gone and it's all keyboards and electro-drums and an amazing light show that turned a small room into a stadium.
Sydney singer songwriter Em George's The Grind has over 200,000 Spotify downloads in Europe:
Go girl!
Tracy McNeil and Dan Parsons covering Steve Miller's Jet Airliner on the "Virtual Unreality" show on 2RRR:
I had Tracy and Dan from Tracy McNeil and the Good Life in the studio back in July and I asked them to play a cover and they delivered in spades. It's why we do radio.
Blackie's Song a Day project:
What an achievement. The equivalent of 36 albums in a year? Not even Ryan Adams would attempt that. A wonderful eclectic mix of songs: hard rock, punk, acoustic, power pop, classic rock. You name it, Blackie did it in 2016. Another great guy that I've had the pleasure of having in the studio and looking forward to him coming back.
And there's more. Perhaps it wasn't such a bad year after all.
Chris Virtue hosts the Virtual Reality show on Sydney community radio station 2RRR-FM on Saturday nights.
Tags: top ten, chris virtue, virtual unreality, 2rrr-fm