BARFLY TOP TENS: Peter "Booges" Werth of Conquest of Noise Records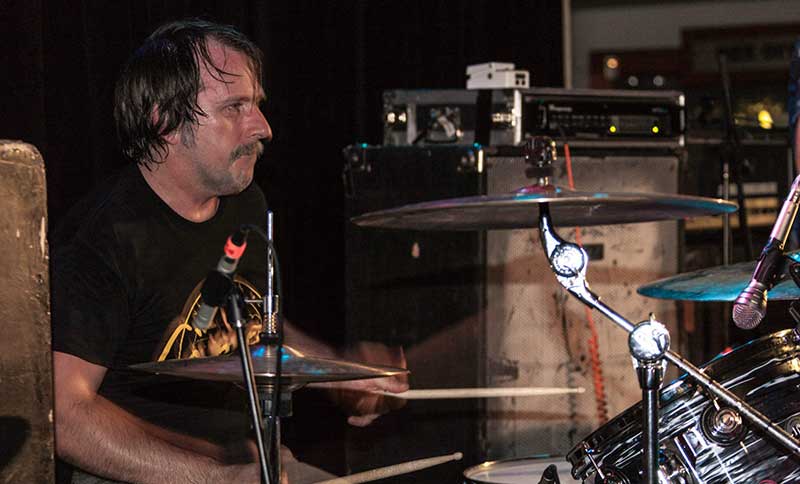 EAGULLS - "Ullages" LP (Partisan Records)
Second album from these lads from Leeds. It's bleak, it's dark but you would expect that from a Leeds band.
Think – The Cure, Cocteau Twins
THE GOON SAX - "Up To Anything" LP (Chapter Music)
Brisbane kids. Pop music played as it should be. A familiar last name amongst the members. The apple doesn't fall far from the tree.
Think – The Go-Betweens, Beat Happening
DAVID BOWIE - "Black Star" LP (Columbia Records)
The artist of our generation? I'd say so. He changed my perspective of music when I was young. His finest work since the 70's. Respect.
Think – David Bowie
BOB MOULD - "Patch The Sky" LP (Merge Records)
Hüsker Dü, Sugar, Bob Mould not much else to say really
Think – Pure guitar pop

THE MANTS - "Do The Dummy" LP (Dead Beat Records)
Legendary Canadian mutant bug garage rockers produce another cracking album. This record will get you swigging back beers from start to finish.
Think – The Crusaders

LEADFINGER - "Friday Night Heroes " LP (Conquest Of Noise Records) & "Cheers Squad" 7" (Conquest Of Noise Records)
I had the absolute pleasure & honor of putting out these two records for my old mate Stew. This guy has matured like a fine bottle of red. All killer no filler.
Think – The Replacements, Flamin' Groovies

GRINDHOUSE - "Crazy Pussy" LP (Conquest Of Noise Records)
I first heard these guys when I was filling in on drums with HITS. We played with them in Collingwood. I was outside & heard this noise that sounded like The Didjits. Punk rock.
Think – The Didjits, C grade pornos

THE SCRAPES - "The Songs Of Baron Samedi" LP (Conquest Of Noise)
It took forever to get it pressed so technically it should have been a 2015 release. Anyway this is a classic psych, drone experience from the Brisbane two piece Julian Cope is a big fan.
Think – The Necks, The Dirty Three

PIOUS FAULTS "Self Titled" Cassette (Tenth Court)
Tom from the band sent me the tracks & it blew me away. Sounds like hardcore before the metal fusion garbage took over. Watch out for the vinyl out soon.
Think – early 80's hardcore from LA & DC

SHEP DOOLEY "10 to 1" Digital Conquest Of Noise Records
More Brisbane kids. Great songs. The full EP will be out later this year.
Think – Flying Nun bands circa 80's, The Clean

Honorable mentions that get played a lot but not out yet:
MEAT CAKE "Let Them…"
RÄTTENS KRATER "Urrah!"
Booges runs Conquest of Noise Records out of Brisbane and you can find them here.
Tags: top ten, conquest of noise, peter werth, booges