BARFLY TOP TENS: Sydney Celebrity Roadie Peter "Rossy" Ross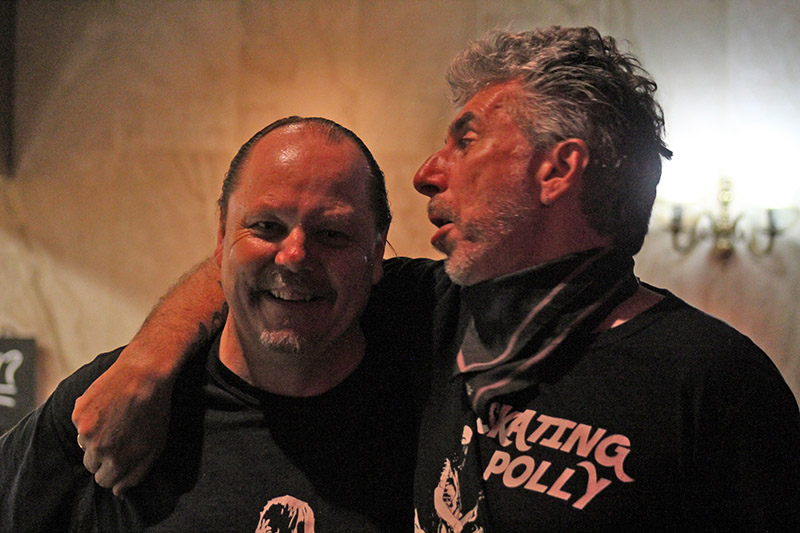 The Celebrity Roadie Peter Ross attracts fans wherever he goes. Veteran road manager John Pearce (right) inspects his ponytail to make sure it's real.
The On and Ons @ almost everywhere – The Sydney power-pop phenomenon rolls on and gets ready to record a third album. Strong songs from singer/songwriter Glenn Morris and the pedigree of Clyde Bramley, Jon Roberts and Brian Morris make for irresistible pop. Welcome Aboard!
Watch
The Flaming Hands @ Factory Theatre & Enmore – A couple of power packed shows from these '80s icons blew my mind. Julie Mostyn's crack band of Radio Birdman's Warwick Gilbert, Peter Bull and Barton Price brought a polished sheen to Jeff Sullivan and Julie's songs. They should come back again… soon!
Watch .


Buffalo Re-Visited @ Brewtality Festival in Melbourne – Dave Tice's re-tooled "Class of 2017" Buffalo Re-Visited killed it. Tice's evergreen vocals and mainstay bassist Steve Lorkin was joined by Troy Scerri and a drummer with a thoroughbred pedigree, Marcus Fraser. A killer set at the Brewtality Festival in Melbourne was spectacular.
Watch .
Tamam Shud @ The Bridge – Prog-surf rockers the Shud pulled off a quality set of their impressive catalogue of material at The Bridge. Lindsay Bjierre and Tim Gaze have lost none of their magic covering a lot of ground including '60s classic "Hot Generation". Outstanding.
Watch .
Celibate Rifles @ Narrabeen RSL – Despite rumours of a certain tall laconic lead singer gracing the stage not eventuating, we were not disappointed because the one we got had a fair bit more hair. The Rifles smacked down all contenders that night bar none. On their home turf they smashed out a set of killer classics and left us in no doubt who the hometown heroes were. Unreal!
Watch .
The Sunnyboys @ National Tour – The feelgood story of the 21st keeps rolling on. The Sunnyboys invoke our youthful memories and hark back to a less bitter and cynical time. Their songs of teen angst hold up well due to their poignant honesty. It's great to see the Oxley brothers doing what they do best… together with fellow foundation members Richard Burgman and Bill Bilson.
Watch
The Conspirators @ Marrickville Bowling Club – A fun night out listening to 60s revivalists and former wrestling aficionados, The Conspirators. Lovers of The Sonics and Nuggets era psychedelia put it together for the first time in 30 years. I don't want to have to wait that long again.
Watch here.
Chris Masuak & The Harbour City Wave Riders @ Factory Theatre. MY old pal Klondike landed back in Oz and was lucky enough to pull together an A Grade rhythm section in Tony "Chief" Bambach and Stu Wilson. A day's rehearsal and this crack unit were on the front line of the war against the jive. Chris's pristine playing and historical back catalogue stood the test of time interspersed with tracks from his power pop classic "Brujita". If there is a better guitarist, I haven't seen him.
Watch .
Friday On My Mind @ ABC TV and iView – The miniseries documenting the rise and fall of The EAsybeats was a faithfully historical piece on Australia's 60s icons. Sure, some bits were out of sequence, and some of the uglier parts of the tale were left out, probably for good reason, but it put the boys back in the frame. Christian Byers, from Sydney band The Slippers, was great as flawed front man Stevie Wright. The contribution to the Aussie scene of Ted Albert can't be overlooked. The series was aired the same month as the band's spiritual leader George Young passed away… and a few days after the death of his little brother Malcolm who also featured in the series.
Watch it on iView if you can here.
The Barman @ Social Media – The I-94 Bar's head bartender and cheerleader of Oz-Detroit rock is style brandishing still his covert alt-right Trumpism despite my best efforts to bring him to heel. He sent me a missive reminding me to get my Top 10 together, and promised to reward me in standard union rates. I'm not holding my breath. And in answer to the oft asked question… yes he is serious!
Tags: top ten, sunnyboys, the on and ons, buffalo revisited, chris masuak, taman shud, flaming hands, peter ross, rossy, the barman, conspirators, celebrity roadie