BARFLY TOP TEN: Australian guitarist-songstress Penny Ikinger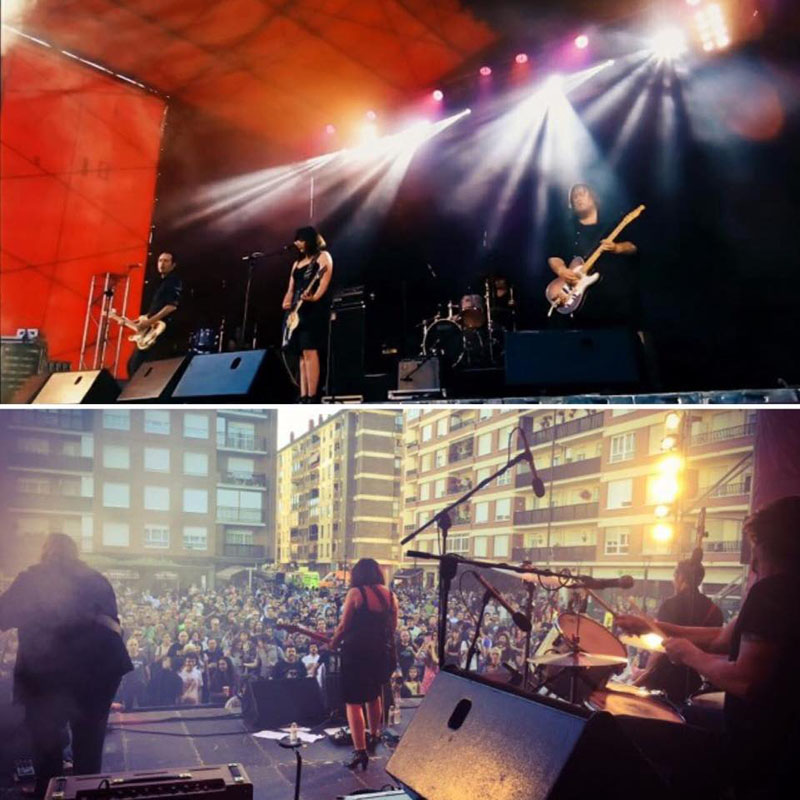 Penny onstage with Dimi Dero, Vinz Gulluliy and Johnny Casino at Andoaingo Rock Jaialdia in Basque Country.
In no particular order:
1. GUITAR WOLF (Japan) and Mach Pelican at The Bendigo Hotel, Melbourne
Ah! Guitar Wolf! Boy, can these guys fly! Liberating and exhilarating to listen to and watch. Every now and then I go to a gig and get a guitar lesson for the price of the entrance fee! This is the second time I have seen these guys, and there I was, right up the front again, with my comrade in arms, Julian Wu, protector of rock 'n' roll women in volatile crowds.

2. CHARLIE OWEN at The State Library of Victoria, Melbourne
Charlie melded instruments - electronic, electric and acoustic - in a way only Charlie knows how. Situated in the Reading Room of the State Library of Victoria, a tremendous building built in the gold rush era of the 1850s, the setting was opulent and reverential. Charlie had his very own pulpit/stage so to speak and kept us spellbound for an hour or so.


3. BEACHES album launch at The Gasometer, Collingwood
Beaches play rock music in an almost lackadaisical manner. Their three guitarists weaving in and out of riffs with relative seamlessness. Their coolness is exemplified by the lack of bravado and showing off in their playing. They feel no need to bash you over the head with their technical prowess, preferring to enthrall you with their catchiness. It's a fresh approach to playing rock music.
4 BEACHES - "VOID" (Official Music Video)
First single from new Beaches double album Second Of Spring, released 8 September 2017 on Chapter Music on 2LP, CD and digital. Order in digital stores or as physical product.

5 
PATTI SMITH at Festival Hall, Melbourne
Well this gig really blew me away me and Patti reminded me of what the older generation can contribute to our world of rock that those youngsters just haven't learnt yet and will not learn unless they stay true to their cause and remain in the game long enough. That in itself requires a life long commitment and demands many sacrifices along the way. Take note younger generation! There was a maturity and resonance in her delivery which showed us her wisdom, power and passion, not to mention her phenomenal presence.

This is something that can't be bought or appropriated. It is what it is. It is pure, it is real, it is exceptional and has changed the face of rock n roll. Patti Smith's reputation has been well and truly earned - from the lessons of her life and from her exploration of an intellectual framework that embraces both poetry and rock n roll and is hers alone. She was a progenitor of punk rock and remains a rebellious and vocal figurehead in our contemporary world, defying the rules associated with success for female artists - youth, beauty and all the rest.

6. RUMBLE: THE INDIANS WHO ROCKED THE WORLD
A feature documentary about the role of First Nations musicians in popular music, including guitarists Link Wray and Jessie Ed Davis and singer songwriter Buffy Sainte-Marie, amongst others. There are some real rock n roll revelations here, particularly the story of Jessie Ed Davis' killer guitar solo in Jackson Browne's song "Doctor My Eyes". A must see for any rock n roll fan.
7. DESCENT INTO THE MAELSTROM
Well researched Radio Birdman documentary with amazing live footage and insights from the band. Rock n roll ain't ever been an easy ride.
8. SUPERSENSE - FESTIVAL OF THE ECSTATIC Arts Centre, Melbourne - PUSSY RIOT THEATRE (Russia)
Their performance "Riot Days" (which received a standing ovation) was just fantastic. I spied Anita Lane in the queue for some merch after the show so I joined her for a chat and am now the proud owner of a Pussy Riot T-Shirt. Other festival highlights for me included the incredibly talented and prolific solo artist/ guitarist KEIJI HAINO, a Japanese musician and singer-songwriter whose work embraces rock, free improvisation, noise music, percussion, psychedelic music, minimalism and drone music. ACID MOTHERS TEMPLE (Japan) were stunning as well.
9. SHONEN KNIFE at the National Gallery of Victoria
These pioneers of Japanese pop-punk music and culture are still rockin' hard. Their new drummer Risa was just extraordinary.
9. BOWIE IN BERLIN
Helmed by musical director Mick Harvey, (Nick Cave's Bad Seeds/ PJ Harvey/ Birthday Party) I played guitar in this tribute show which featured material from what's referred to as The Berlin Trilogy - Bowie's run of albums recorded with Brian Eno and Tony Visconti in the late '70s - producing the albums "Low", "Heroes" and "Lodger". The Berlin Trilogy encapsulated some of Bowie's most thought provoking work set against the barbed-wire bleakness of the Berlin Wall.

Joining me in this tribute show was Miles Brown (Keyboards, Theremin), Robin Casinader (Keyboards, Violin), Clare Moore (Drums), JP Shilo (Guitar) and Stu Thomas (Bass). Vocalists for the evening were an eclectic mix - Kylie Auldist, Dave Graney, Michael Nolan, Ron S. Peno, Kim Salmon and Max Sharam. Being part of this show was heaps of fun and really opened my mind to the brilliance of Bowie. It was a real treat to play at the Enmore Theatre in Sydney, Hamer Hall in The Arts Centre, Melbourne and The Regal Theatre in Perth.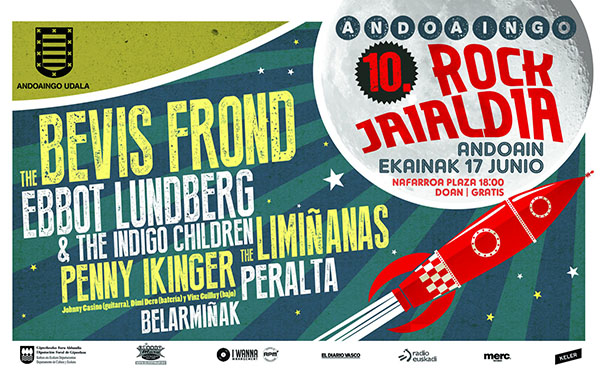 10. ANDOAINGO ROCK JAIALDIA , Basque Country, Spain
More about me, I'm afraid - I was joined by French musicians Dimi Dero (drums) and Vinz Guilluy (bass) with special guest Johnny Casino on guitar for this festival appearance. Originally from NSW Johnny Casino now lives in Spain. Not only is he a great guitarist but also a pretty cool songwriter as well. A meticulous player, he put his all into my music (as did my rhythm section) and we truly rocked.

It was a pleasure to share the stage with everyone and to see the other acts that played at the festival. I met some mighty fine people in the audience too. This was one of the coolest line ups I have ever seen I reckon. I WAS TRANSFIXED!!! The headliners were EBBOT LUNDBERG and THE INDIGO CHILDREN from Sweden. Previously from The Soundtrack of Our Lives, Ebbot is an incredible singer and songwriter and our chat backstage revealed him to be a very interesting and intelligent person. I'm sure he thought the same about me ?.

BEVIS FROND were a musical force to be reckoned with. Wow! Hailing from the U.K. their live appearances are sporadic but well worth the wait. LIMINANAS from France also joined the bill. They are my fave band at present. I really love their aesthetic and the way they mix different and divergent sounds and styles together so cohesively.

Spanish band PERALTA were also fantastic and a hard act to follow. The festival is situated in the town plaza of Andoain and glorious mountains serve as the backdrop. The Basque Country is a beautiful lush green area. It has a strong rock tradition and the Basque people have a sophisticated taste in music. Think of Bang! Records and the fantastic albums they have released over the years. I feel a fascination for the Basque Country & Catalonia, both of which are fiercely independent, yet cannot extricate themselves from the sticky web of rock n roll.

Neither can I.

As for the rest of my European sojourn - after the festival I headed North to Paris to play at Fete de la Musique. Fête de la Musique, is an annual music festival taking place on 21 June.The concept of this all-day musical celebration on the day of the solstice is now celebrated in 120 countries around the world. I played this show with the aforementioned Vinz Guilluy and Dimi Dero as my rhythm section and Delphine Ciampi Ellis made a special guest appearance on guitar on some songs. Delphine sounded fantastic as did Vinz and Dimi.There were plenty of friends there on and off stage. The streets of Paris were well and truly alive with the sound of music. Loud rock n roll permeated the city until the early hours of the morning.

Next stop for me was Brittany and Normandy where I played some solo shows supporting GEORGIO 'THE DOVE' VALENTINO (USA). Georgio and his band play an eclectic brand of rock that is both challenging and unique. Such wonderful people too. It was a real treat to spend some time with them. Oh and Rennes! Such a beautiful old town that feels the love for rock n roll and is also the home of French label Beast Records.

After my tour I headed to the island of Hydra on Greece for a short holiday I haven't had a holiday for so long I hardly know what one is. I swam the turquoise sea, ate more than my fair share of delicious Greek food, and walked up and down many a hill. Vertical hills. Steep hills. Hills with steps - many steps. Never ending steps. Hydra was a home and haven for Leonard Cohen and Australian writers George Johnston ("My Brother Jack") and his wife, fellow author and journalist Charmian Clift. The tales of their time on Hydra were published in a collection of short stories and also in the book: "The Sponge Divers" (1955) - a source of inspiration for my song "Sponge Diver" which was released on my first EP 'Songs from the Deep" in 2001. I also went to visit the house where they lived in the 1950s and met the current owner who is considering starting a writer's residency in his home.

Whilst on Hydra my friend lent me a magnificent book: "Guernica: The Biography of a Twentieth-Century Icon" by Gijs van Hensbergen. This book relates the powerful and gripping story of Picasso's 1937 masterpiece "Guernica", a painting that from its birth out of war and violence became known worldwide as a symbolic cry for peace. The book traces the origins of the painting resulting from the tragic destruction of the Basque town of Gernika in the Spanish Civil War. The painting is then used as a weapon in the propaganda battle against Fascism. We follow the trials and tribulations of Picasso's masterpiece as it transverses the globe until it's eventual return to Spain in 1981. A fascinating journey through history, art and politics. Having just played the festival in Basque Country, and having had my 'Electra' album released on vinyl on Bang! Records in 2006, I could not put this book down!

Before I depart The Bar - a couple more highlights for me (and I guess I am well over my Top Ten limit so I might as well just keep talking about myself) - my new single "Gin No Suzu" b/w "Ride On Cowboy" was released this year. Deniz Tek and I composed the songs and Deniz contributes his signature guitar licks to the track '"Gin No Suzu". Deniz and I wrote the song "Ride On Cowboy" in Kiama, NSW. Kiama is where the writer Charmian Clift (mentioned above) grew up. I recorded these songs in Tokyo with musicians from the Japanese psychedelic scene - Masami Kawaguchi (guitar), Louise Inage (bass) and Keiichi Sakai (drums). This is a limited edition CD single release so grab one while you can here. These tracks are the first taste of my new album which will be released in 2018.

Charlie Owen and I made a guest appearance on a track on the FONDERMANN (Hamburg, Germany) album "Blickwinkel" also released this year. Charlie played dobro and I played guitar. This album covers a lot of interesting musical terrain. I also made a guest appearance on vocals and guitar on JAMES MCCANN and THE NEW VINDICTIVES' fabulous album

.

So, it's been a busy year and next year is shaping up to be even busier.

If you got this far thanks for reading and I hope to see you around the traps in 2018.

THE END.

Tags: top ten, johnny casino, penny ikinger, david bowie, charlie owen, rumble: the indians who rocked the world, beaches, mach pelican, guitar wolf, shonen knife, andoaingo rock