A Cult classic revisited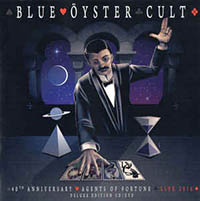 40th Anniversary Agents of Fortune Live 2016 - Blue Oyster Cult (Frontiers Records)
And you're asking, Why? And possibly with good reason. For starters, it's 2020 and that makes the anniversary four years late, right? And surely these guys aren't still going?
They are - albeit with just two original members. Australia was lucky enough to host them a few years ago. The last studio album was "Curse of the Hidden Mirror" 19 years ago (and it was pretty good.) There's even a new studio record pending. This live celebration is a valid addition to the BOC catalogue, even if most of the appeal will be for rusted-on fans.
So some history for the rest of you: "Agents of Fortune" was the breakthrough for Blue Oyster Cult. The fourth LP for the band and the one that went platinum in the US. The record that had the hit, "Don't Fear the Reaper" - the song that made cowbells infamous, some years down the track, thanks to an infamous piece of TV sketch comedy on "Saturday Night Live". The album that took them from odd-beat, biker band cult weirdos to mainstream, Middle America, laser light show-toting, stadium stardom.
It's a record that was always one of two distinct parts for mine, and not just because of the obvious reason that you had to flip the sucker over to hear the entire contents. The stronger songs ("Reaper", "ETI" and the fashionably anti-hippie treatise "This Ain't The Summer of Love") happened to be on the A side, with lesser lights ("Tattoo Vampire" and "Sinful Love") on the other and therefore not played as frequently.
Of course hindsight is a smart-arse and the second half is worth considerably more attention than it was paid way back then. The record makes sense as a complete work. It was An Album. Not many bands make them now. The modern equivalent is just a bunch of MP3s.
Commercial success to one side, "Agents" was a radical sonic departure from its predecessors with the power intact but much more spit and polish. Don't debate whether the cowbell was too loud on "Reaper" (it sounded that way when it scored airplay because of radio compression.) Listen hard enough to the whole thing and the innate sense of lyrical strangeness and mystery that made BOC special remained intact. BOC was, and always will be, a much more cerebral listening experience than AC/DC.
"Reaper" was a classic single - a dark rumination on mortality, rather than suicide, with rich, psychedelic overtones. It also had spectacular guitar playing. "Agents of Fortune" as a whole offered more depth than its vast sales let on.
"40th Anniversary" was recorded for cable TV before a small audience in Los Angeles with Donald Roeser - aka Buck Dharma - and Eric Bloom accompanied by the current line-up. They're joined by co-founder Albert Bouchard, not on drums but on lead vocals (for two songs), guitar and, uh, cowbell. You get the live album that runs through all 10 songs, plus a DVD which oddly omits "Summer of Love".
A lot of people attribute the departure of Albert Bouchard and bassist brother Joe as a turning point for BOC. They certainly took with them an energy that springs from a bonding of blood relatives. But there was a lot more happening with BOC, with input from a broad and diverse cast who included writer Richie Meltzer, spiritual spark and producer Sandy Pearlman and Patti Smith, who was late keyboardist Allen Lanier's girlfriend.
Does the record translate to a live show? You bet, but the absence of a big audience (and any discernible interaction with those who were invited) makes it a little antiseptic at times. There's fire present but it sparks occasionally. There's no faulting the playing. The engine room of Jules Randino (drums) and Kasim Sulton would make most of their "heritage band" (ugh) peers jealous, while keyboardist-guitarist Richie Castellano adds streaks of colour and some sharp fretwork when given his brief spotlight time.
As for those of pensionable age, Eric Bloom's vocal retains its slightly leery presence, with an edge that suits the dark and deep lyrics to a tee, while Buck Dharma's virtuosity on both his custom Steinberg Cheeseburger and vocals is a joy. Bouchard could play a broomstick and still be musical, and his 12-string on "Debbie Denise" (with Bloom also going acoustic) adds a textual touch that you don't hear from contemporary BOC shows.
The sound mix - or at least the kick drum - takes getting used to without being a game-breaker. The guitars are nicely placed and the keys shine through the soundscape. The 5.1 mix on the DVD has big balls. Among the DVD bonus features is an interview with the three elder statesmen - and for once a host did his research. The rest is a bunch of cable TV promo spots and not essential.
You have the original album, possibly in multiple formats, and you could let this pass you by. But if you do, you're the sort of person who probably listens to Billie Eilish.



Tags: blue oyster cult, patti smith, 40th anniversary, agents of fortune, frontiers records , buck dharma, eric bloom, albert bouchard , allen lanier