A deckfull of Black diamonds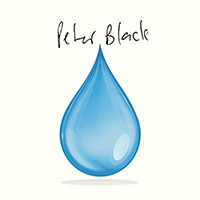 If This Is The Hand I'm Dealt – Peter Black (Cool Bananas)
I'm Gonna Cheat As Much As I Can - Peter Black (Cool Bananas)
At first blush it's D-U-M-B-everyone's-accusing-me for an artist to release his sixth and seventh albums simultaneously. Flooding the market breaks a fundamental rule in the mythical music industry marketing manual about (a.) controlling supply to build demand and (b.) maximising the impact of "product".
But Peter Black is the guy who, in 2016, set himself the challenge of recording a year's worth of music and releasing one track a day, and you know that convention is for squares.
The concept here was to record an acoustic record ("If This Is The Hand That I'm Dealt") and one of songs augmented by other instruments ("I'm Gonna Cheat As Much As I Can"). While the demarcation lines are blurry – "If This Is The Hand…" has banjo, strings and (on one song) a female lead vocal – there are common denominators: Namely, Black's idiosyncratic vocal, his clever use of melodies and songs that are brimful of surprises.
Both albums are so perfectly matched with each other that it would have been criminal to separate them at birth.
As for a review, don't expect a track-by-track dissection or even a judgement call of one album over the other. I'm leaning towards "I'm Gonna Cheat", if you really want to know, because of its more diverse instrumentation, but it could be a verdict either way, depending on the mood.
If you haven't heard previous Peter Black's solo efforts, the first thing that will strike you is his vocal. This is the same person who was the voice of the Hard-Ons for a time, and you might it hard to get your head around that fact in the absence of that band's furious instrumentation. Black's idiosyncratic, sometimes child-like voice floats in a bubble of its own making, a little whiny but more often than not following a distinct melodic path.
The songs leap from elegiac to hooky, from baroque to boppy. They're peppered by lyrical observations that run from the mundane to the deeply personal ("Song for Mum", "Procedures Must Be Met").
It's understating things to say Peter Black is a prolific writer whose by-word appears to be that if it sounds good, he'll go with an instrument or sound and hang the consequences. That's why "Wish There's a Song That Could Put Me Back Together" is propelled by a rolling banjo and "Let My Hair Down And Breathe" has a slightly absurd earwig of a vocal chorus lurking in the background.
Jay Whalley (Frenzal Rhomb) engineered both albums and it's a fair bet he had a big role as a sounding board and co-arranger. That bloke Macca from the Mop Tops gets a nod as an influence and you can toss in all manner of other pop icons if you like. Brian Wilson would have to be among them judging by the sound of "Return of The Key Jangler", and I'd peg early Arthur Lee and Love as another. Peter Black is tapping the same source that post-Modern Lovers Jonathan Richman channelled in the '80s.
Like the best Hard-Ons punk-pop gems, some of these songs sneak up before sinking their teeth in. The vamping keys and singalong chorus of "Unfurl WB" is as case in point, as is the gorgeous "Sky With Diamonds".
Simple story: You've been dealt a full house. These are Peter Black's best solo records to date.

- both

Victoria
Thursday 4th March - Barwon Club, Geelong w/ Jace Rogers (Dead) and Watty Thompson -tix/details
Friday 5th March - The Taproom, Castlemaine – 2 sets - details
Saturday 6th March - The Tote (upstairs) w/ Raul Sanchez (Magic Dirt, River of Snakes, Midnight Woolf) - tix/details
Sunday 7th March - The Eastern, Ballarat w/ Jace Rogers (Dead) - details
Queensland
Friday 19th February - Punk Fest Presents... at the Zoo (with Fat, General Waste and The Fred Band) - tix/details
Saturday 20th February - Instore at Tym's Guitars with Tim Stewart (all ages) - tix/details
Sunday 21st February - Junk Bar with Glenn Brady - tix/details
Tags: hard-ons, peter black, blackie, cool bananas