A French kiss that will smear your lipstick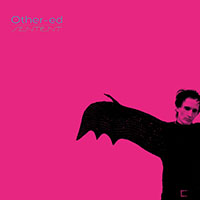 Sentinent – Other-ed (Self released)
This instantly classic CD comes from France in a gorgeous pink minimalist gatefold sleeve with a photo of a black bat-winged androgyne on the cover shades of Specimen, Bauhaus, March Violets, early Cure and Joy Division/New Order.
Genius vocalist/songwriter/musician/fashionplate, Laurent Chopard, is predominantly famous all over the world for being the long-time editor of Veglam, home of the subversive international glam rock-glitter-sleaze and trash punk underground. If you loved '80s Goth and new wave, post punk, and dangerous synth-pop as much as I do, this brilliant collection of radical protest songs sung in an echoing, sexy baritone, an updated version of, you know, Sisters Of Mercy, Mission, Depeche Mode, Tubeway Army, Japan, OMD, Blancmange…you get the picture.
"Disaster Resonance" takes me all the way back to my fondest nightlife - "Liquid Sky" memories of brooding dance clubs in NYC, Cambridge, and Ft. Wayne! It is certain to appeal to all my old friends and girlfriends who used to spray their hair up and purse their lips and dance slowly to old Siouxsie and the Banshees, Erasure, Bowie, Roxy, Alien Sex Fiend, Kommunity FK, and solo Peter Murphy.
Visionarie, vocalist and radical activist lyric-writer Laurent paints a very stark, chilling sonic spacescape and confides to me that his use of old analog synths is partly how he creates such an immaculately retro sound. This record really feels like it came out sometime between 1979-83-his third song, "Revolutionary Perspective" in an anarchist cry for solidarity featuring an incendiary Angela Davis sample, so you might know that really is exactly right up my alley, as an antisocial glamarchist. One can easily imagine Laurent's high cheekboned and darkeyed visage in any of the old '80s glossy magazines like "The Face" and "Smash Hits" pinup magazines we'd all make collages out of on our black bedroom walls.
"Sea Turns Red" is another righteous protest song in the tradition of Suicide, Red Lorry Yellow Lorry, Talk Talk, old Ministry. That whole vibe, and Batcave/Flesh For Lulu/Blitz Kid subculture exactly. It's perfect, really.
If you know me, ya know I'm forever nostalgic for all that goth and glam and post punk from my longlost bloody youth from Birthday Party to These Immortal Souls, Brian Eno, Kraftwerk, Nina Hagen, Magazine, Sputnik, Belouise Some, even Flock Of Seagulls. I like all that lot.
When those dudes from Murder Dolls are feuding in the press about who more righteously deserves control of the brand name copyright, I'm out here in a deadend desert ghost town, still believing in my black heart they originally pinched their name from one of my own infamously doomed, teased haired, gothic-glam, pre Spooky Kids, pre Nine Inch Nails basement bands, Murder Stars, back when we were trying to be the Lords Of The New Church. I still have an impulse to buy hairspray when I go shopping.
Some lifelong glam aficionados might also recognize Laurent from other underground bands like Sugar Sugaar, Gutter Cats, Bridewell Hospital, Sparkling Bombs, Vague Scare, One Way Ticket, Golem Dance Cult, or as the drummer of Kevin K. Band and Ricky Rat Pack's European touring lineu-ps. He is an exquisitely accomplished and talented lyricist/vocalist/synth composer and songs like, "Conditional" are just endlessly listenable gothic/new wave. It makes me want to put on makeup and start assembling a wayout outfit to wear to the club. Feels so wonderfully, "Everyday Is Halloween" to me.
"Sound & Rage" is a cross between Visage and Gary Numan. "Criminal Savior" has a lyric that reminds me of the stinging and poignant prose of Manic Street Preachers when Laurent sings; "Criminal Savior Why can't You Feel The Torture Culture"? A recurring theme seems to be emerging here. His haunted, sometimes tormented songs are exceptional, very reminiscent of Soft Cell, Japan, Joy Division or Sisters Of Mercy. I love this stuff deeply.
"We Want Out" is an existential cry for freedom and escapism and a yearning for a more compassionate planet. "Self Image" is a big hit, or is in my little make believe world. This dashingly dandified rebel poet is a big star in my bloodshot, tired, old eyes. Look for all his stuff! Now, I am excited to play his follow-up, "No Gods, No Masters, But Glitter"!!!



Tags: kevin k, ricky rat, veglam, other-ed, laurent chopard