A hangover worth having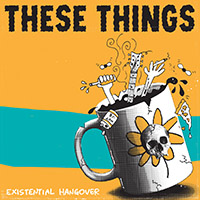 Existential Hangover - These Things (Dirtyflair Record Company)
Three albums in and These Things just made their own patch of swamp in Australia just a little deeper.
These Things have nailed it with "Existential Hangover". Crawling king snake fuzz intersects with patches of clean guitar against a no-nonsense backbeat. If Mudhoney crept out of a recycling depot in a rural Victorian town and went on an absinthe bender with Reverend Beat-Man, they'd sound like this.
"Should've Stayed Home" was the Ballarat trio's last album (under the unwittingly questionable name, The Yard Apes, since wisely discarded) and this one equals, if not surpasses, it. Not much is new in the trash genre but tight playing, good songs and punchy production usually make for garage band goodness. And so it go
The title track and "Cigarettes and Booze" are fairly representative of the album's sound. Think fuzzy but supple. A hard-arsed guitar line runs over the top of "Overworked and Underpaid" to impart a sharp edge. Twisted fedback guitars and a sneering vocal in "Rich Arsehole" couldn't be more direct. The swagger-don't-run "She's Aware" suggests a band with broader intentio,ns.

Distortion can hide a multitude of sins, but where some would just plug in and thrash away, These Things aren't afraid to vary the dynamics. The album's 11 songs sit comfortably together, which is the mark of a band comfortable with their music. Perhaps one reason is the familial link between guitarist-vocalist Brett Dunbar and brother Greg on bass. Maybe another is that These Things are Australian and our pub bands don't fuck around. A straight-up rocker like "Master Plan" would suggest as much.
Yes it's on vinyl and when they run out in the near future, you'll have to make do with he download that you can find here.

1/2
Tags: beat-man, yard apes, ballarat, mudhoney, these things, existential hangover, dirtyflair