A sonic baseball bat...with love from France.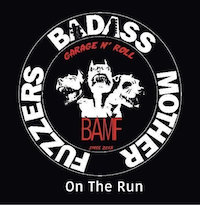 On The Run - Badass Mother Fuzzers (6tone Records)
"On The Run" is a relentless barrage of garage fuzz. Like a carpet bombing squadron of B52s heading out on a mission over Cambodia, the record moves into formation, sweeps over its target and drops its payload.
Badass Mother Fuzzers hail from Toulouse in France and have a single-minded devotion to the task at hand - hitting listeners and audiences in the face with a sonic baseball bat. The Swedes didn't monopolise this stuff.
French rock and roll gets a bad wrap from some - mainly people who think it rocks but doesn't roll. Fair call sometimes but there ar always exceptions to a rule. Hight art gets star billing in France; scuzzy rock and roll not so much. If you're a doubter, suspend your view of these Motherfuzzers' Gallic origins. The Mother Fuzzers do "get it".
From the opening surge of "Feel Like" to the emphatic finisher "Gonna Get You", it's a foot-flat-to-the-floor, full-throttle attack that's more Motorhead than La Marseillaise. A few songs fall into the "same-y" category and a few ideas pull up short, but on the whole this is an album that hit the mark for fans of high-energy guitar rock and roll like the 'Copters, Backyard Babies, Warped and Streetwalking Cheetahs.
Guitarist Mick Motherfuzzer provides the whiney voice and bassist Paz Motherfuzzer and drummer Cyril (yes, they're Motherfuzzerz, too) the backing vocals. The odd football terrace chant breaks out. Controlled mayhem meets focussed attack.
In case the onslaught gets too much, "Breaking Down" brings that important sense of melody to the party - with some all-important space in the song for it to breathe.
"Fall For You" breaks the mould with the guitar turned to slinky garage rock mode rather than pure fuzz overdose. This one is in the realm of The Morlocks or the Fuzztones. The moody "Love Ain't No Crime" also eases back on the tempo, throws in some organ and evokes teen angst.
It's the second album from those blokes and they don't look or sound like they're about to stop. Expat Detroit sonic wiz Jim Diamond mixed and mastered the album (and plays a spot of guest guitar) so it sounds magnifique.



Tags: france, jim diamond, badass mother fuzzers, toulouse, 6tone, "on the run"