Baile Bruja Muerto - Reverend Beat-Man and Izobel Garcia (Voodoo Rhythm)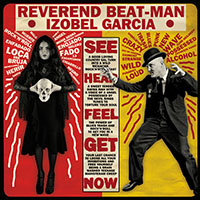 Izobel Garcia's collaboration with Reverend Beat-Man was one of the best things on the latter's most recent album, "Blues Trash", so a full-length long-player from the pair was always going to be a tasty prospect. Those high hopes have been met.
"Baile Bruja Muerto" (translation: "Dance Witch Death") evokes colours of a dark hue; West Coast Mex cool meets decadent garage trash. Gospel, swamp and skronk meet in a parking lot to imbibe god knows what.
Ms Garcia is an L.A. artist of Mexican descent with a stunning voice. Beat-Man is a frequent visitor to the City of Lights as he has relatives in the area. The pair met at a downtown rock and roll gig. Beat-Man picked Izobel for a musician because she looked odd. It takes one to know one.
One European tour and a bunch of recordings later, "Baile Bruja Muerto" is here. It has to be said that Beat-Man outweighs Garcia on this recording. It's not to underplay her presence, but Beat-Man would dominate a room full of crazy people in an asylum if you gave him a chance. Evidently (Nicole) Izobel Garcia 9s a folk-singer in her usual guise. Beat-Man makes music to wreck any party.
Their record is an eclectic and unnervingly great mix of obscure covers and originals. The trash ethos runs deep, but it's hard to pin the music to one particular genre. That variety is a winner. So you get "Macorina", a song about a Mexican feminist icon by Chavela Vargas and it's delivered in muted electronica style with dinky keys. "Love Me Two Times" is the Doors classic deconstructed - no, demolished - with a chainsaw. Beat-Man's guttural vocal sits at its centre like a festering, open wound.
"Pero Te Amo (but i love you)" is a steamy opener. The pair reprise Beat-Man's "Come Back Lord" to primal effect. "Nerviosa" is twisted AOR weirdness. They don't come any weirder, however, than the closing "My Name Reverend Beatman", a spoken word diatribe from a very strange place.
Beat-Man's own guitar-playing is a basic stand-out before the record moves to less orthodox parts as it plays on. If you know the man's work, you'll love it. If not, it's a good place to start. Anyway, it's (mostly) a Beat-Man record. Don't over think it.
Read another review here.

1/4
Tags: beat-man, voodoo rhythm, Nicole Izobel Garcia, Baile Bruja Muerto