Bella Wreck - Bella Wreck (Heavy Medication)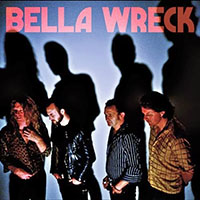 This re-issued gem on Polish label Heavy Medication is by a band led by an Australian expatriate based in Germany. It was originally released in Europe on vinyl in 2014 and it's odd-on that if you weren't in the know back then and you come from outside Europe, you probably wouldn't have noticed.
Dave Thomas is the Australian vocalist and guitarist in Bella Wreck and, no, he's not the Dave Thomas from Geetroit legends Bored! For one, he's about a metre taller. He also has strawberry blond hair down to his arse.
This Dave Thomas lived colourfully for a while in New York City and was a member of Sydney bands Flame Boa and The Crisps. The Crisps included Hoody from The Johnnys and Stuart Wilson (New Christs and Lime Spiders) on drums.
Thomas co-founded hard glam rockers Doomfoxx - also home to Rose Tattoo's Mick Cocks. Doomfoxx knocked around Sydney fin the '00s and had the backing of serious industry players. They moved to Germany, released an album and played to much acclaim. When world domination did not follow, Bella Wreck became Dave Thomas' new band…
"Bella Wreck" is a very Australian album - at least if you're an Australian who soaked up the high-energy rock and roll that hit the country like a bomb in the 1980s. You can hear the sly Radio Birdman lyrical references and there's no mistaking the guitars that tear at your throat or the band's uncompromising attack, but "Bella Wreck" ilves on the melodic side of the strasse. If you want a reference point, Happy Hate Men Nots are their cousins.
Thomas has an ear for a hook. The evidence is "Downtown", a pop song that would have done the Happy Hate Me Nots proud in their heyday. Thomas delivers a great vocal and rides the melody well. A bubbling bass-line propels the song perfectly.
Thomas's co-writer on all but one song is guitarist Jens Freudenberg and it sounds like they'd spent a bit of time in each others' pockets by the time they laid down the album. The other constant is bassist Robin Ritzheimer whose melodic flow is intrinsic.
"Can't You See" is a bracing opener with a matter-of-fact refrain. The guitars are a little under-done but the playing is as tight as a fish's arse. "Untold Fury" and "1000 Years" make a similar impression. "Untold Fury" brusquely shoulders its way like a latter-day Lime Spiders song while "1000 Years" takes its melodic lead from Vanilla Chainsaws.
You get 16 songs on "Bella Wreck" (two more than on the original album) and the quality is maintained. There are too many keepers here. If the pre-bonus closing salvo of the monosyllabic ""Run", "Fun", "Fight" and "Better" doesn't speak to you, get that hearing aid fixed. Better still, buy a ticket to Berlin and find out first-hand.



1/2
Tags: heavy medication records, dave thomas, bella wreck, doomfoxx, mick cocks