Collection captures Rifles firing on all cylinders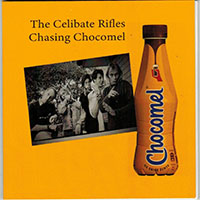 Chasing Chocomel – The Celibate Rifles (self released)
Don't let the fact that these are cassette dubs of live-to-air radio recordings deter you. A bit of compression never hurt anyone. This posthumous 22-track collection from Europe and Australia is prime-time Celibate Rifles from the "Roman Beach Party"/"Blind Ear"/"Heaven on a Stick" period, and it burns like a kerosene spill on a barbie.
As a fan of the Rifles from the get-go, I thought it was "Roman Beach Party" that showed they'd really come to grips with the studio. Foot-to-the-floor Rifles got the crowds shaking live, but sometimes the wry observations were buried under all that Sturm und Drang. You had to listen hard to appreciate what they were saying on the early records too. From here on in, you could hear Damo's words - loud and clear.
The musical vision of the band was widening, too. The addition of some greasy harmonica on "Jesus on TV" was an obvious nod to Chicago blues, and there were more textures. "Frank Hyde (Slight Return)" isn't here but I remember thinking, who closes their album with an instrumental?
Whatever the critical snobs said, the Rifles were never your average punk rock thrash band. They didn't preach like their Northern Beaches contemporaries the Oils but they did discuss (and practice) the art of non-conformity. Taking the piss was a Rifles stock-in-trade. but "Blind Ear" songs like "Sean O'Farrell" confirmed a broader world view that was always there.
The Rifles were a biggish deal in Europe – especially in the late '80s when the first batch of this compilation's songs found life. Australian bands were something of a flavour on the Continent even if the USA was a harder nut to crack. "Chocomel" includes a 1990 Lovelock interview on Dutch radio that reveals the hosts to have a high level of awareness of the Aussie scene.
So you get three rhythm sections (Rudy Morabito and Paul Larsen, Jim Leone and Paul Larsen, and Jim Leone with Nik Rieth) across this collection and the quality of each combination is a stand-out feature.
If there was a better Australian guitar paring than Kent Steedman and Dave Morris in the '80s and '90s, you know the email address. There's more weaving going on here than in a Bangladeshi clothing sweatshop and Kent's explosive and often abstract lead breaks are searing.
The Rifles had their lighter moments but there's some a serious reminder that this was the era of audience participation. Damien pauses after an incendiary "Happy House" to tell a Paddington RSL stage diver to fuck right off. Good on him. I never paid money at the door to see those pricks.
Playing favourites gets tough with this collection but hearing the back-end of a 1992 set that launches into "Back in The Red" tumbles into "Baby Please Don't Go" and then explodes into the irresistible momentum of "Electravision Mantra" is something special.
Some guitar player going by the name Kelvin the Elf assembled and mastered this, and the double-barrelled good news is that Rifles enabler Guru Stew is selling them exclusively on his eBay page and there are more archival fan releases to come. Now, repeat after me: "Fuck, I miss the Rifles".

1/2
Tags: kent steedman, celibate rifles, damien lovelock, dave morris, paul larsen, chasing chocomel