Dark charms on display from Sydney veterans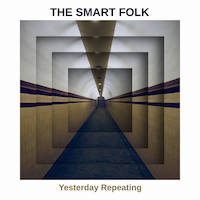 Yesterday Repeating - The Smart Folk (self released)
There's a treasure trove of slightly backward-looking, beat and mod-based pop by veterans coming out of the UK on a coterie of labels like State Records and Damaged Goods right now. Aussie band The Smart Folk would be right at home on either of them.
It doesn't have the explosive pop brashness of The Embrooks or the raw swagger of Graham Day or CTMF, but "Yesterday Repeating" displays its own slightly darker charm.
Born out of a mod revival duo in Sydney six years ago, these old codgers have become a staple on their hometown's small but tenacious live scene. "Yesterday Repeating" is their debut full-length album and it's reflective of the quartet's stylistic starting point without being limited by it.
"Yesterday Repeating"? Sounds like a name for an over-the-counter treatment for indigestion - which might be appropriate for fellers getting a bit long in the tooth. Let's can the cheap shots (we resemble that remark) and focus on the music. And the good news is that it's '60s derived and pretty good, with more light and shade than the band sometimes manages live.
Most of the 10 original songs are from vocalist-guitarists Peter Kowal and Chris Newtown. The exception is "Take That Chance Again", a moody and impressive song penned by the Sydney scene's Mr Everywhere, bass player Keith Claringbold.
There's plenty here to like. "Not Quite a Match" is the effervescent pop bomb. "Little Fish" is a quirky dance number. The fuzz-laden title track is the dead giveaway as to the band's mod origins and recalls an early Jam. The neat guitar-work and melody line in "One Thing More" also works a treat.
"Summer and Light" aims for that bright and beachy sound without quite achieving it with the dark tone at odds with the subject matter. Likewise, the reflective psych song "Camouflage" sounds like a lost opportunity. On the other hand, Chris Newtown's wry and tightly-strung "Foreign Affair", and the jangly and rueful "Shadow of the Panther", are more successful and make for a neat pairing.
The Smart Folk have a shot at a re-make of the Bee Gees' "In My Own Time" that doesn't stray far enough from the original but gets marks for trying.
Props to the clear-headed production from Studio 57's Mark Scully that lets the bright bits shine through.
"Maturity" is a label tossed in the general direction of bands whose members have been around the block three or four times, but what it also often means is that the players actually play together to produce something that's a sum of the parts. The Smart Folk nail that.



3/4
Tags: pop, mod, keith claringbold, the smart folk, yesterday repeating