Does Suburbia disturb ya? Get a thong up ya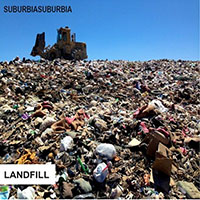 Landfill – Suburbia Suburbia (self released)
Suburbia Suburbia's new album, "Landfill", is anything but rubbish. It is bloody awesome, It is full of screaming guitars, loads of wonderful harmonica and rolling bass lines and pounding drums. It's just bloody good.
Suburbia Suburbia is Tony Townsend on vocals, Robdog Dekker (guitar), Allan 'Krock' Lyon (harmonica), Robbie Jib (bass), Rowie Riot (lead guitar) and Noel Gardner (drums.) They also have Ian Taylor (rhythm guitar) and Mark Godfrey (bass) on a couple of tracks.
These seasoned musicians have come up with eight tunes that just rock - a combination of blues and good old pub rock and roll. I cannot recommend this highly enough because it's pure gold.
Kicking it off is "Ten Pound Hammer" and what a riff with some unbelievable harmonica. It sets up the rest of this CD. Think Nashville Pussy and you'll know what I'm talking about.
"Thongs" and "After She Went Missing" will have you grooving.
"On The Broom" has an Angels feel; it's not a copy but the guitar riff could have been at home on any of their early albums. And Tony Townsend can sing! Folks - what a wonderful voice this man has.
"Invoice (Who Do I)" is my personal favourite. Play it at full volume. What a fucking headbanger of a song!
"Lenny's Bookshelf" has another driving, pumping guitar riff and, once again, some lip-splitting, blood-curdling harmonica playing and is probably the most bluesy track on the album. "Bruised Nuts" is the final track and has an AC/DC (Bon Scott-era) sound. Man, I love this tune, and "brushed nut and gravel rash" is a great line.
Steve James' production has nailed the pub rock sound, big time.
So I-94 Barflies, if you like your music loud. heavy and kinda bluesy then this album is a must. I can think of no better CD for a road trip, so buy this album, see them live, forget your troubles, drive your car fast and sing these tunes loud. It's a bloody cracker. Oh and drink lots of beer too. Not while driving, of course,
All the best from The Farmhouse.
"5 Beers please Barman"

"OK"

Tags: bon scott, oz rock, suburbia suburbia , landfill