Echoes of past thoughtcrimes but ViviKit is here and now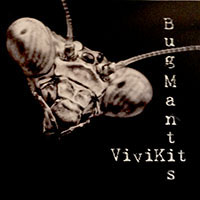 Bugmantis – ViviKit (self released)
Back in the dim, dark past of Sydney's nascent underground music scene, a band called the Thought Criminals stood out like the proverbial dog's. They were so unlike all the other spotty kids on the inner-city block.
Nineteen-seventy-seven (the time of their birth) was the Year of Radio Birdman. The Thoughties, with their jagged rhythms, blaring keyboards, political lyrics and highly-strung vocals, sounded nothing like them. They were post-punk before punk had ended.
Members went on to some high profile gigs – playing guitar in Do-Re-Mi, drumming for the Hoodoo Gurus, playing keyboards for Died Pretty and being an Industry Mogul – and the Thought Criminals left an indelible mark at the arty end of the Sydney punk spectrum.
Their vinyl output fetches big money now and is representative of a whole sub-level of the Sydney scene, characterised by their own DoubleThink label, which was home to Sekret Sekret and Tactics among others.
Fast forward past the band's two LPs and EPs, its conclusion in 1981, its 2005 CD retrospective, its subsequent reformation shows and sporadic new output. What started as a potential new Thought Criminals project has ended up as an album by two members under a different name.
ViviKit is Bruce Warner (Thought Criminals vocalist Kit Identity) and Stephen Philip (guitarist Vivi Sector), and they've reunited over the Internet because they live on opposite sides of Australia. "Bugmantis" is 13-tracks of keyboards-dominated, intense post-punk songcraft.
Comparisons are odious but often inevitable. It's less than a minute long but opener "Thought Bubble" does recall the Thoughties' sound - to a tee. It's by no means the only track to do so but while VikiKit has its roots in the past, it doesn't much sound like it's trading on that. There's a distinct dance edge to half of it.
"1.5" is two-minutes-plus of call-and-response psychodrama set to an Alan Vega soundtrack. All that paranoia sounds like it's about to come crashing down in the following cut, "Hey Reveal The Lock", only to give way to the lilting title track, which sounds like early '80s Tom Verlaine when he was deep into synthesizers. "Dear Phoenicia" comes from a similar place.
Lest we pine for human rhythms, closer "Something Fell" employs a "real" drum kit.
"I'm Not Thatman" projects a dark Warner vocal over an electronic rhythm and abrasive guitar. Keys and guitar play tag to build a dense sonic wall, and to these ears, at least, "Dis-Ko-Dem-Ic" comes to dissemble dance music, not praise it.
By chance, a bunch of Pere Ubu records had been spinning in the Bar before "Bugmantis" arrived, and there's a parallel with that band's late-'80s output. Just as the Ubu grew out of the cracks in the sidewalk of its hometown of Cleveland, the Thought Criminals also seemed to have been summoned up from a more ethereal place than the 100 Club or Woodward Avenue in Detroit.
ViviKit's members retain their predecessor band's lyrical wit while revelling in some obtuse lyrics (helpfully reproduced on the insert) that leave ample room for interpretation. There don't seem to be many songs about political crimes or businesspeople throwing themselves out of high rise buildings but that's all been done before…
If you're looking for something that shrugs off classification, you might be int he right place. "Bugmantis" will be released on vinyl eventually (all boats from pressing plants are slow, right now) so CD will have to be your pleasure until then. It's procurable by sending an email This email address is being protected from spambots. You need JavaScript enabled to view it..

1/2
Tags: thought criminals, vivikit, stephen philip, bruce warner, bugmantis