Everything's Gonna Be Alright – Handsome Jack (Alive Naturalsounds)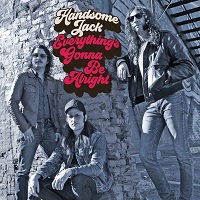 A word about words: Albums should be all about music, but descriptors count because they convey an identifiable concept of what the music sounds like. Lockport, New York, Handsome Jack's record label, Alive Naturalsounds, calls them "boogie soul". That cap fits…so you know the rest about wearing it.
Fourteen years into the game and "Everything's Gonna Be Alright" is the third long-player for Handsome Jack since they kicked off as a trio of precocious teens in a ubiquitous garage. Two of the three members remain - drummer Bennie Hayes is a newcomer - and while stability like that is a rarity, it's also a virtue.
Guitarist Jamison Passuite summons up John Fogerty with his rich and resonant vocal on opening track "Keep On"; other places he echoes Southern rock and Stax soul. Throw in some Delta blues and the rest of this sure-footed, grooving album doesn't stray far from the inspirational well. Many, if not most, of their influences seem to have been around before these guys were born. Is that a bad thing?
The country-fied licks and hokey vocal of "City Girls" places Handsome Jack somewhere on the road to Muscle Shoals while the winsome '70s funk of "Why Do I Love You The Way I Do" could have been waxed 45 years ago and preserved as a precious unplayed acetate. The horns and strings might be dated to ears rendered useless after constant exposure to that slick caricature called "contemporary R 'n' B" but the rest of us can revel in the sound.
Hayes's a busy drummer but knows when to lay back. His adept feels, and Joey Verdonselli's fluid bass-lines, are the anchor of the music - as they should be – but the harmonies laid down by Verdonselli and Passuite are just as integral. It's more soul than boogie (at least as Aussies understand it) but it's never mellowed to the point of sacharine. A garage-y edge remains intact.
In "Getting Stronger", Passuite sings: "Don't need no voodoo, no superstition too" convincingly enough to make you believe that all the studio trickery in the world can't save music that's bereft of real feeling. Some sounds are timeless and Handsome Jack knows they can only be absorbed when you're genuine.
"Holding Out" invokes Buffalo Springfield's groove but with a bluesman replacing Stills and Young. "Everything's Gonna Be Alright" takes the blue-collar-boogie-in-the-Delta thing to the edge of parody for a moment, but locks into a relaxed Humble Pie vibe to emerge unscathed.
Ben McLeod (All Them Witches) produced the record and pulls a warm, rich sound that could have been tracked at Ardent. Bob Nave (of the legendary Lemon Pipers) adds a dash of Hammond organ. Chris Robinson is a booster of Handsome Jack - and you can hear why.

1/4
Tags: boogie pimps, alive natural sounds, memphis soul, handsome jack, everything's gonna be alright