Frank and Eddie deliver what the label on the front says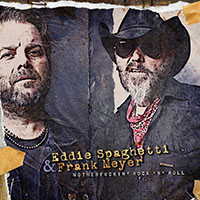 Motherfuckin' Rock 'n' Roll – Frank & Spaghetti (Kitten Robot Records)
Hello Barflies! The Farmhouse has been rocking these past few weeks because the principal members of two of my favourite American bands, The Streetwalkn' Cheetahs' Frank Meyer and the fabulous Supersuckers' Eddie Spaghetti, have joined forces as Frank & Spaghetti to release a long player, "Motherfuckin' Rock 'n' Roll".
"Motherrfuckin' Rock 'n' Roll" is just that and follows a couple of digital singles by the duo (and friends), the epic "Shit's Fucked" and a cover of Tom Petty's "Jammin Me".
Frank Meyer was kind enough to answer a couple of questions.
We made the album during COVID when both of us were stuck at home. Eddie wrote a bunch of songs and we traded ideas back and forth via shared files. We started making an album.
First, we released a song called "Shit's Fucked" and then a cover of Tom Petty's "Jammin Me". Eddie and I cover the song "Heartache" off the first Kix record. Brian "Damage" Forsythe from Kix plays on that tune, plus most of the rest of the album.
As i said, we started the album during COVID. We recorded half the songs in my living room on GarageBand, and the rest in the studio. Engineer Paul Roessler (The Screamers, 45 Grave) and Mike Sessa really helped take it to the next level.
KIX is a band both Eddie and I love to nerd out about. We both know Brian, and Eddie even produced an album by his other band Rhino Bucket, so it made sense to ask him to play on our KIX cover. But once he said yes, we kept sending him more songs and he ended up playing all over the album!
"Motherfuckin' Rock 'n' Roll" is the title track and opening song. It just kicks you in the head and is a great opening track. "I Think It Sucks" is an old-school country cowpunk track - done with the Supersuckers sound,It is fucking awesome.
So to "Knock Your Teeth Out" and "Barroom Brawl": These are stomping, drinking, yelling along songs and just brilliant rock 'n' roll.
"Heartache" is another great song but the cover of "My Sharona" is The Bomb. With guest gutiarist Berton Averre (founding member of The Knack) on board, they stick to the original arrangement but play it with a little more attitude. They rip into that riff and the song is a bona fide headbanger.
That's only a sample of the tracks on this. Dig in and you'll find something else for your listening pleasure.
For the record: the players are Eddie Spaghetti on vocal, bass and acoustic guitar, Frank Meyer on vocals and guitar, Mike Sessa (Streetwalkin' Cheetahs) on drums, Brian "Damage" Forsythe (KIX and Rhino Bucket) on guitar, Geoff Yeaton (Streetwalkin' Cheetahs) on sax and Berton Averre of The Knack on guest lead guitar.
Now Barflies, anything by Supersuckers or the Streetwalkin' Cheetahs goes straight into my music collection. I'm proud to add "Motherfuckin' Rock 'n' Roll" which is released on Kitten Robot Records and through all tasteful streaming outlets (are there any?) Honestly, it's a cracker of a record.
Take care all - from The Farmhouse.


- SIX BEERS & A BOTTLE OF WHISKEY please Barman!
Tags: supersuckers, eddie, spaghetti, frank , frank meyer, streetwalkin' cheetahs, kitten robot records, motherfuckin' rock n roll