Good Things - Graham Day and The Forefathers (Damaged Goods)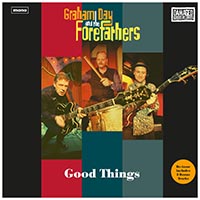 A re-issued collection of hits and misses from 2014 with extra tracks, "Good Things" is a revelation to these ears.
That really shouldn't be the case with two members of The Prisoners on board. Power abounds with this UK trio on their 15-track effort, which is out on the always great Damaged Goods label, which is the home of the so-called Medway Sound.
Medway, you say? It's the name for a style of beat-garage based out of Kent that takes its lead from the Kinks, the early Pretty Things and a host of similar bands that walked the rough side of the street in the '60s. Billy Childish is its most famous son, or titular head. Long may he rule...
The Medway Scene seems more incestuous than a Tasmanian swingers party with members of the Buff Medways, The Galileo 7, The Prime Movers, The Solarflares and a dozen other bands seemingly interchangeable. What do these guys do when they go to rehearsal? Throw their picks/drum keys into a fruitbowl?
Enough snide social commentary. Bassist Allan Crockford and vocalist-guitarist were in The Prisoners and played with drummer Wolf Howard in a band called The Prime Movers in the late '80s.They convened as The Forefathers in the '00s to plunder the bulging songbook of Graham Day, playing tunes from some of the aforementioned acts.
And Graham Day can write a song - as this album attests; "Get Off My Track" is tough-as-teak rock-pop that rides a terrific bubbling bassline. "Sucking Out My Insides" recalls the early Pretty Things with its nasty fuzz streak.
Crockford and Howard really do the business in the engine room, sounding just like Jimi's Experience on the free-wheeling "Freedom" – which shouldn't come as a surprise as Hendrix and Co did it originally. This is one of the bonus tracks and had been sitting in somebody's sock draw for a decade and a half.
Is it just me or does opening track "The Good Things' cop something from the uncouth "Loose"? "30-60-90" is a groovy fuzzball instrumental that yells: "Lyres" more than it references The Senior Service, Day and Howard's vocal-less and fantastic soul band.
Recorded more or less live with just some vocals overdubbed, it sounds great. LIners are by Joss Hutton and they put the wholke package in perspective. If you die not hearing it, it will be your fault - especially with that link being so prominent under the rating below. .
Tags: the prisoners, billy childish, damaged goods, graham day, forefathers, medway sound