Head Undone: 1982-1988 -Buick KBT (Buttercup Records)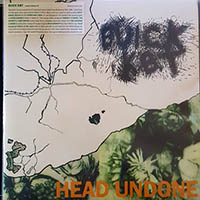 You have to admire record labels like Buttercup who dig up decades-old sounds from Australia's music underground, chuck a new coat of paint on those mouldy old tapes and offer them up for a cash consideration to nerdy record collectors who crave those obscure Australian sounds.
A cynical person would file this Melbourne combo under "'80s Smack Rock"…and of course I'm a cynical bastard. But, hey, being inspired by The Birthday Party or the Bad Seeds isn't a bad thing. Those groups wrote their own rule books and went where no bands has been before them and if you're going to be inspired by somebody it may as well be by the greats.
I'm sure Buick KBT shared cups of tea with The Wreckery, The Moodists and The Sacred Cowboys. They certainly shared stages with Venom P.Stinger, Go-Betweens, X , The Laughing Clowns and Dead Kennedys.
Like mostButtercup releases, this includes stacks of bonus insert goodies. Open the cover and you'll find re-pros of vintage flyers, a booklet detailing the bands existence and band interviews plus details on the recording of these tracks , you'll also get a download card which includes the full LP, plus eight bonus tunes.
So onto the music, it's the 1980's St Kilda sound (which could mean anything really), but you can almost smell Fitzroy Street of those days within the grooves (i.e pizza , hookers, beer and heroin.) And, yes The Bad Seeds, Birthday Party and The Wreckery spring to mind very quickly, especially in the lead vocals.
There is some great sax which adds a unique twist. Some weirdo jazz rhythms and seemingly improvised and very imaginative arrangements by the entire band with female backing vocals making this combo not just clones of private school boys from Geelong.
Track 2 "Raylee" has hints of early Gun Club, the playing and arrangement almost matches Frank Zappa for its unpredictability...no mere verses/chores/verse/chores etc arrangements going on here (or on any of the tracks) they are all pretty good players. Drummer Helen Smart really nails the tunes and never goes overboard.
"He's Gone" brings in some Coltrane via The Laughing Clowns saxophone from David Rogers, it's a good vibey live mixing desk recording. "Fools Hold The Bay" gets a bit hippy proggy with its tin whistle and spoken word lyrics, the regulation 80s trebly bass keep the song firmly in the post punk sound
Side 2 kicks off with "Got My Head Undone". You can almost see Tracey Pew's hips grinding and his cowboy hat in the dirty bass intro. The song reminds me of The Wreckery (which isn't a bad thing)
"Perfect Crime" dips its toe (maybe unintentionally) into the New York No Wave sound. The remaining tracks on Side 2 move away into a slightly more quirky direction, almost M Squared-ish.
The band recently did a one-off reunion in Melbourne with their original '80s support band Fungus Brains which by all reports was huge. Moves are being made to bring this line up to Sydney. Watch this space.



Tags: st kilda, buttercup records, the wreckery, the birthday party, buick kbt, venom p stinger