Heart of Black City - Poison Heart (Heavy Medication Records)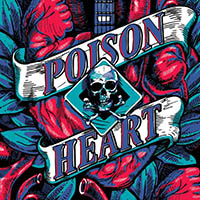 Parallel universes of like-minded underground music scenes exist all around the globe but Poland has to be one of the lesser-known outposts. Poison Heart from Warsaw just appeared on my radar and they might be candidates to pop up on yours.
The Scandi Rock wave of the '90s gave high-energy rock and roll a much-needed injection of spirit just as the rippling after-shocks of grunge were making everything bland and homogenised. Poison Heart soaked it all up and "Heart of Black City" makes obvious nods to the Hellacopters and Gluecefier.
Is that a Warsaw Turbojugend logo on your CD slick or are you just happy to see me?
In contrast to the Norwegian Denim Demons, "elegant punk 'n' roll" is Poison Heart's self descriptor, and there's a swagger rather than a frantic stammer or metallic sway to these 10 songs. The rather ace "Bittersweetness" typifies their sound: Heavy riffing, a pliable engine room and songs with a melodic sensibility, much in the vein of Sewergrooves.
"Heart of Black City" is the band's third long-player and Poison Heart has been around for eight years. It shows in the surely of their playing. Jacek Barton's powerful yet poised vocal sits firmly between the guitars of Paweł Kozicki and Kamil Sontowski, who come into their own on the hard-driving "For Life".
Opener "Big City" is a little pedestrian but "Your Generation" sets things right with its stabbing guitars and strong chorus. In case you were wondering, Poison Heart sing in English and there's a degree of depth in the lyrics of songs like "Plastic" and "Away".
"Bagarmosen" is dedicated to the late "Strings" Davlqvist of the 'Copters and takes a large leaf out of their book, stylistically speaking. The dissonant guitars of "Prince of Scum" would do mid-period TBNGR proud.
Label honcho Derrick Ogrodny says Poison Heart's style isn't indicative of the local scene so maybe they'll convert a few of their brethren. This Rock Action stuff doesn't go out of circulation, so maybe Stockholm, Warsaw, Detroit and Sydney aren't really "poles apart". (OK, I'll get my hat and coat and leave now…)

Tags: hellacopters, turbonegro, poison heart, heavy medication records, poland, heart of black city