Hook Down Easy - Phringe Dwellers (self released)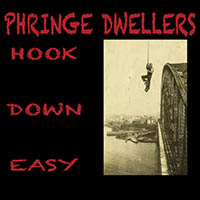 For every band that "makes it" there are hundreds, if not thousands, that never get past thefringes of a scene. Sydney's Hunchbacks were one of the many runners-up in the mid '90s. Despite patronage from the likes of Asteroid B612 (whose main man John Spittles produced them), they never cracked the big(ger) leagues.
That the hard blues edge of The Hunchbacks is apparent on The Fringe Dwellers' debut album "Hook Down Easy" should be no surprise: Vocalist Carl Ekman (on bass) and guitarist John South from that band are leading lights. They're joined by sometime I-94 Bar scribe Simon Li (drums) and Damien Smith (vocals and guitar.)
The sound of "Hook Down Easy" drips Sydney's underground music scene circa 1986. It's in the driving, hard-edged sound and sparring guitars that do it. That's where the band's roots are and there's no escaping them. I'm guessing that won't be a drawback for many reading this.
About that sound: The Phringe Dwellers threw away the conventional wisdom of spending all you can on a top-shelf recording studio and then spending money you don't have on mastering. For the former, they laid down the 13 songs at Zen, a budget studio in Sydney best known as a rehearsal space, but somewhere they felt comfortable. Then they outlaid money I bet they didn't have for Don Bartley - just about the best in the business - to master it.
The result is stellar: It's punchy with separation in the guitars and sounds positively huge on the bottom-end - as any band that cut its teeth on the once glorious Sydney pub scene should be. Engineer Geoff Lee should also take a bow. It was mostly recorded live and has a raw edge.
The songs are a mixed bunch - mostly blues-based rockers with shared vocals that often don't rise to any heights. Again, this should not be a problem for many people. This is blue collar rock and show pony singers wouldn't cut it. Some of the songs don't reach too far in their arrangements and/or lyrics - like the plodding 12-bar "Champagne and Reefer". But isn't that the blues?
The stand-out element is the steely guitar interplay of John South and Damien Smith. They know how to riff around each other and pull out some snappy lead plays. Simon Li and Carl Ekman are no slouch of a rhythm section either. If you've seen him over the years, you'll know Carl's bass-playing has been sorely underrated.
The Phringe Dwellers don't exactly gig every week so they're another one of those "best kept secrets" who sneak onto the opening slot of gigs, acquit themselves well and then get stiffed for their fee by a promoter. It's pointless taking every song apart when the odds are you've never heard any of them, but that's the joy of Bandcamp - you can go here and try before you buy. You can also pick up their excellent EP there.

3/4
Tags: phringe dwellers, simon li , the hunchbacks, hook down easy, don bartley